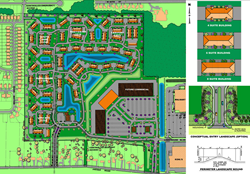 The Village at Lighthouse Point offers a maintenance-free rental lifestyle while providing the privacy and comfort of a condominium or housing development. - Jeffrey R. Keefe, P.E., P.S., KS Director of Site Design Services
Elyria, Ohio (PRWEB) January 27, 2015
KS Associates, Inc., a civil engineering and surveying firm located in Elyria, Ohio, has completed site design services for a new 60-acre upscale adult rental community in the City of Lorain. When constructed, The Village at Lighthouse Point, located on Jaeger Road west of the Lighthouse Village shopping center, will offer a much-needed rental alternative to those seeking residence in the City of Lorain. The project is expected to break ground in the winter of 2015, with rental units becoming available in the fall of 2015. The project is scheduled for completion in 2018.
KS Associates provided site design services for the project, helping developer The Bouman Group LLC through the many phases of the design process. KS Associates also represented the developer at Lorain Planning Commission meetings to understand the needs of the community and deliver design solutions that satisfied stakeholder concerns. The project was approved at the August 6, 2014, Lorain Planning Commission meeting.
According to Jeffrey R. Keefe, P.E., P.S., director of site design services at KS Associates, "The Village at Lighthouse Point fills a market gap for housing in Lorain. The community offers a maintenance-free rental lifestyle while providing the privacy and comfort of a condominium or housing development."
The site was designed to support 52 one-story buildings that will house 298 suites ranging from 1,200 to 1,900 square feet. Located off of the newly expanded and rehabilitated Jaeger Road, it provides direct access to the Lighthouse Village shopping area, and to the community's club house and five building clusters: Lake Erie Cove, Marblehead Cove, South Bass Cove, West Sister Cove, and Fair Port Cove. KS Associates' site plan also calls for park-like landscaping with walking trails and several acres of ponds. The site was designed with future development in mind; 30 acres of the site are earmarked for commercial use.
About KS Associates, Inc.:
KS Associates, Inc. is a civil engineering and land surveying firm founded in 1987. The firm provides planning, design, bidding and construction phase services related to public infrastructure projects in the areas of transportation, potable water, waste water and storm water; site development engineering services for institutional, commercial and residential uses; coastal engineering services; land surveying and mapping services; and 3D laser scanning services. KS Associates, Inc. is a Disadvantaged Business Enterprise (DBE). For more information visit: http://www.ksassociates.com.