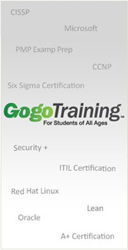 Excellent knowledge – the instructor tied just about every subject to an illustrative real-world situation he had encountered.
St. Louis, MO (PRWEB) January 27, 2015
No Limits Software is pleased to announce that their data center management courses are now being offered by GoGoTraining as a set of self-paced video courses. The courses were written by Dave Cole, a data center expert with more than 25 years of experience, and were designed for everyone from a new data center manager to an experienced professional. The course modules were professionally recorded at the GogoTraining studio and are conveniently broken down into 30 minute segments to allow busy professionals to view the materials at their own pace.
No Limits Software has delivered these courses to more than 700 students over the past 5 years to companies like Verizon, Yahoo, Cisco, ADP, and VMware, as well as through Global Knowledge. The courses tie each subject to illustrative real-world situations actually encountered by the instructor. "Students who have taken our course have been very pleased with both the breadth and depth of the materials, which are updated on a regular basis to provide the most recent information" said Dave Cole, president of No Limits Software. He added, "We are very pleased to be working with GogoTraining as I have always been impressed with their wide range of offerings and their unique approach to self-paced video courses".
"Our customers love the data center courses and we are happy to work with the team at No Limits Software to be able to sell and support this solution for our customers" said Marianne Cherney, CEO of GogoTraining. She added, "The data center courses are a great fit with our other technical courses, which span the range of IT, hardware, and management training."
The data center training covers a wide range of topics:

Overview of Data Centers
Data Center Power
Data Center Physical Security
Data Center Cooling Strategies
Availability and Preventive Maintenance
Energy Efficiency in the Data Center
Designing a Data Center Floor Plan
Practical Steps to Implement ITIL
Data Center Management Tools and Techniques
Measuring IT Service Management
About GogoTraining
GogoTraining is an on-line IT, Hardware and Management training platform that delivers instructors, their courses and podcasts to the global technical community 24/7. GogoTraining differentiates itself from other online learning providers by offering a vLearning or Virtual Learning solution. vLearning blends the best features of instructor-led classroom courses with the best features of eLearning to create the perfect learning platform: Interactive instructor-led classroom courses available online 24/7. For more information, visit their web site at http://www.gogotraining.com.
About No Limits Software
No Limits Software is a leading provider of data center management solutions, including asset and change management, capacity planning and real-time monitoring. Their RaMP DCIM solution allows you to more effectively manage your data center. RaMP eliminates the need for physical audits, dramatically reduces the time to find and repair equipment, improves system availability and increases data center energy efficiency by providing accurate real-time monitoring. RaMP is scalable from small to enterprise level data centers and all data is fully accessible via published web services API to allow you to easily integrate with your existing data center management platforms. For more information, visit their web site at http://www.nolimitssoftware.com.