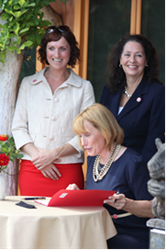 For two decades Badger has operated as a successful, mission-driven company, effectively proving that businesses can do well by doing good.
Gilsum, New Hampshire (PRWEB) January 26, 2015
Today, W.S. Badger Co. Inc., a family-owned manufacturer of USDA certified organic body care products, became the first company in New Hampshire to elect benefit corporation status. The new law creates the legal framework for mission-driven companies, like Badger, to incorporate their commitment to bettering their communities and the environment as a part of their business model. Badger co-owner Rebecca Hamilton and founder Bill Whyte, NH State Senator Molly Kelly, and Deputy Secretary of State David Scanlon, along with other state officials and invited guests, will mark the occasion at a special signing event held at the State House in Concord.
"For two decades Badger has operated as a successful, mission-driven company, effectively proving that businesses can do well by doing good," said Rebecca Hamilton, Badger Co-owner and Director of Product Development. "We are honored to be the first to register and hope today will set the stage for many more like-minded companies to join us."
New Hampshire is the 27th state to enact benefit corporation legislation, and Badger played an integral role alongside NH Senator Molly Kelly and others in getting the bill passed. Last fall, the Company hosted Governor Maggie Hassan (pictured right with Rebecca Hamilton and Senator Molly Kelly) at its headquarters in Gilsum for the ceremonial signing of the new law into legislation.
"I was honored to have sponsored the new Benefit Corporation Law and to have worked with W.S. Badger," said Senator Molly Kelly "The new benefit corporation law allows our NH businesses to compete, attract talent, market what they do best to investors and customers, and create jobs. I am so proud that W.S. Badger will be the first to take advantage of this new law, which allows them to have a broader impact benefiting our environment and our community."
"This is an exciting time for New Hampshire businesses that believe in making a positive impact on society and the environment, as well as a profit," said Jay Coen Gilbert, CoFounder of B Lab. "Badger's initiative and leadership helps pave the way for other purpose-driven NH companies to use their business as a force for good."
Benefit corporations are a new kind of corporation legally required to: 1) have a corporate purpose to create a material positive impact on society and the environment; 2) redefine fiduciary duty to require consideration of the interests of workers, community and the environment; and 3) publicly report annually on its overall social and environmental performance using a comprehensive, credible, independent, and transparent third party standard. Current law requires corporations to prioritize the financial interests of shareholders over the interests of workers, communities, and the environment.
Since 2011 Badger has been a Certified B Corp, a certification conferred by the non-profit B Lab, which verifies that a company's policies and practices support their mission and meet a high standard of overall social and environmental performance. Badger has also landed a spot on B Lab's 2013 and 2014 "Best for the World" list, which honors companies with the highest score for positive social and environmental impact.
# # #
W.S. Badger Co. Inc. has produced quality, all-natural and certified organic body care products since 1995. Badger aims to provide a safe haven for those seeking more natural solution by creating organic and natural products that protect, soothe and heal with ingredients safe for all. Family-owned and family-run, Badger was born when Badger Bill, a carpenter at the time, discovered a recipe of natural ingredients strong enough to soothe his rough, dry and cracked hands. Now a team of about 40 employees, Badger produces almost all of the products in Gilsum, N.H. Badger and has been awarded B Corp Certification, after demonstrating its hard work to create a healthy business with ethical and charitable principles. Visit http://www.badgerbalm.com for more information.
B Lab: is a 501c3 non-profit organization that serves a global movement to redefine success in business so that all companies compete not only to be the best in the world, but the best for the world.
B Lab drives this systemic change by: 1) building a community of Certified B Corporations to make it easier for all of us to tell the difference between "good companies" and good marketing; 2) passing benefit corporation legislation to give business leaders the freedom to create value for society as well as shareholders; 3) helping businesses and investors measure, compare and improve their social and environmental impact through use of its free B Impact Assessment, and its B Analytics and GIIRS Ratings platform. For more information, see bcorporation.net, benefitcorp.net, bimpactassessment.net, and giirs.org.