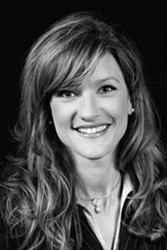 As Chief Operating Officer, I'm looking forward to implementing the strategic objectives of our firm while also working to raise the awareness and stature of operations professionals within our industry
Atlanta, Georgia (PRWEB) January 27, 2015
SignatureFD, a leading privately held financial design and advisory firm headquartered in Atlanta, has promoted Heather Robertson Fortner, MS, IACCP®, to Chief Operating Officer.
In her new role, Fortner will direct, manage and oversee business strategy and firm-level projects that impact client experience, team performance and firm success. Specifically, she will work closely with the board of directors, the CEO and the leadership team to enhance the firm's client service model, as well as design and implement updated technology solutions to enhance the client experience.
In her 12 years with the firm, Fortner has held multiple positions, most recently as Director of Operations. She also serves as SignatureFD's Chief Compliance Officer and is responsible for ensuring the firm's compliance with legal and regulatory mandates. Fortner has been a SignatureFD partner since 2013.
"I've been extremely blessed to spend the past 12 years working alongside some of the best and brightest in our industry, building a firm that empowers both clients and team members to enjoy lives of purpose," said Fortner. "As Chief Operating Officer, I'm looking forward to implementing the strategic objectives of our firm while also working to raise the awareness and stature of operations professionals within our industry."
Fortner, who joined SignatureFD in 2003, has 17 years of experience in the industry. She has a master's degree in professional counseling, is an Investment Adviser Certified Compliance Professional® and holds her Series 65 securities license.
"Heather is an essential member of the SignatureFD team," said SignatureFD co-founder and CEO Jeff Peller. "Over her years with our firm, she has consistently demonstrated her skill in all areas of operations. It is especially rewarding to watch someone grow and succeed from within our firm. The entire management team is very proud of Heather's accomplishment."
About SignatureFD
SignatureFD, LLC, is an innovative and comprehensive financial design firm with a simple mission: to empower each client to use their wealth to live a great life. Founded in 1997, SignatureFD offers a full suite of wealth management services designed to meet the needs of high-net-worth individuals and families. These include asset management, asset protection, tax planning, cash flow and debt management, wealth transfer planning, and financial life planning. SignatureFD manages over $2.25 billion for 750 client families and has had a client retention rate of 97% since opening its doors in 1997. For more information, visit the SignatureFD website at http://www.signaturefd.com.
Press Contact:
Jeff Peller, Co-Founder and CEO
1230 Peachtree St. NE, Suite 1800
Atlanta, GA 30309
404-253-7600
jeff(dot)peller(at)signaturefd(dot)com