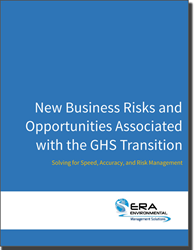 Huntsville, AL (PRWEB) March 02, 2015
ERA Environmental released a new white paper today, which provides an executive summary on the pitfalls and profit potential surrounding the UN's Globally Harmonized System (GHS) requirements. Titled Business Risks and Opportunities Associated with the GHS Transition, the paper highlights risk management issues related to overdue or inaccurate safety data sheets (SDS) and chemical labels. The paper also explores ROI and market share advantages that can come from employing automated, SDS software before the transition deadline. For your free copy visit: http://hubs.ly/y0t3mY0
"Not since the 1970's, if ever, have we seen such a massive shift in hazard communication standards," explained Sarah Sajedi, CEO and CTO of ERA Environmental, as well as a long-time environmental compliance expert. "The challenge now facing chemical and manufacturing companies is comparable to the system overhauls preceding Y2K. We drafted this white paper to inform chemical industry decision makers, who are aware of the pending deadline, but perhaps unclear on how different SDS authoring methodologies will impact their bottom line."
"Many companies are planning to complete the transition manually," confirmed Ria Mali, GHS Specialist at ERA. Mali has written extensively about the risks of SDS authoring without the proper tools and sources—defining costly repercussions, in terms of penalties for inaccurate work and weeks of wasted labor.
"Others are investing in solutions that aren't fully supported. They burn through the budget on a software platform, only to find they need to hire out for implementation and consulting."
The executive white paper, Business Risks and Opportunities Associated with the GHS Transition, is offered as a complimentary download on the ERA Environmental website. ERA hopes senior leaders will take this opportunity to be proactive and develop a more informed, strategic GHS implementation plan.
To download your copy of the executive white paper visit: http://hubs.ly/y0t3mY0
About ERA Environmental
ERA has more than two decades of experience in solving EH&S problems—particularly hazard communication compliance. To support faster, more accurate GHS transitions, ERA's proprietary software gets precise chemical data directly from leading chemical and coating vendors, so you can guarantee production will keep pace with the coming regulatory changes. ERA's growing list of partnerships with major paint and coating vendors includes Sherwin Williams, Valspar, DuPont, PPG, BASF, and others. Learn more at the ERA Environmental website: http://www.era-environmental.com