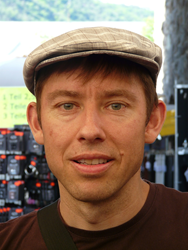 London, England (PRWEB UK) 28 January 2015
Andre Pienaar G3 Camera Specialist has announced his first exhibition of work in central London, but with a twist.
The location for the show will remain a secret to only a few select people until the last moment, with invitees being emailed passes onto which they print an image of their own face, in a move which the photographer hopes will make the show even more special.
These images will then be turned into a collage on the wall space of the exhibition to create one central artwork for visitors to enjoy.
Talking about Faces and Places, Andre Pienaar, said: "I've been thinking about releasing my G3 work into an exhibition for a while now but never really found a way which was interesting to me as an artist.
"I've been to so many exhibits in recent years and wanted a way to make this one feel personal. I felt the best way to do that was to make the visitors part of the exhibition."
Andre Pienaar is a photographer who restricts himself to using the Panasonic G3 camera – a restriction which he says encourages creativity.
He added: "I've found that overcoming the limitations of any chosen media is central to art as a whole. Whether you're recreating an historic battle scene with the limitations of oil paints and canvas or capturing a sunset using a camera and development software, the aim is the same for both."
In regards to the central collage, by collating all the visitors' faces in one place, Andre Pienaar hopes to give them a lasting memory of the exhibition in a way which captures the essence of his work.
The exhibit will be held for six weeks at a hidden Shoreditch location, starting 1 April 2015, and special guests will be invited personally by Andre beforehand for the opening night.
The face passes will be collated over the first two weeks before being unveiled in the collage on the third week for the remainder of the display.
About Andre Pienaar G3 camera specialist:
Andre Pienaar G3 camera specialist is a South African living in London. He graduated from Goldsmiths with a degree in fine Art in 2008 and has been focused on photography ever since. He is well known among art circles and can often be found at new exhibitions in Shoreditch.