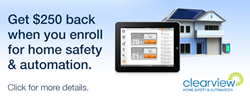 ... the average family can experience greater security, greater comfort, greater energy savings, and maybe just a bit of futuristic fun along the way.
Dallas, TX (PRWEB) January 28, 2015
Clearview Energy through its hardware, software, and installation partners is offering an alarm, energy management, and home automation suite: Clearview Home Safety and Automation. The service is a professionally installed, fully monitored wireless system which combines monitored camera security with comprehensive energy management and whole home control of numerous devices.
The service can be controlled remotely from computers and many different mobile devices through alarm.com, the leading provider of smart-home technology.
Clearview has put together a best-in-class service:

Equipment is top-of-the-line General Electric equipment
24/7/365 monitoring is done by CSAA 5-diamond certified monitoring companies
Professional installation is done by licensed and bonded contractors
The alarm panel offers two-way communication with the monitoring company unlike most "dumb" panels
"Smash & Grab" protection prevents miscreants from disabling the system without consequence
All basic packages come with motion and door/window intrusion sensors and a smart programmable thermostat for free. Customers can choose to customize their systems with real-time energy monitoring systems, security and monitoring cameras, light management systems, smart switches and wall outlets, smart door locks, smart garage doors, fire alarms, and health and habit monitors. Because it is based on the latest home automation wireless protocols, the system is easily expandable as additional automation solutions evolve.
"We decided to put together the best of the best as our first offering into the home energy management and home automation services. Most of the home automation packages in the market, including the Nest systems are still very DIY, and not very approachable. Clearview's philosophy is to get home automation and energy management into the home without much effort on the customers' part, so that the average family can experience greater security, greater comfort, greater energy savings, and maybe just a little bit of futuristic fun along the way," stated Peter Jucha, VP of the company.
For a limited time, Clearview Energy new and existing customers can qualify to receive a $250 rebate by enrolling in the company's home safety and automation service.
There's no "Rosie the robot" yet, but who knows? That may be coming soon. Details are available on the company's website.
About Clearview Energy, Inc.
Clearview Energy, Inc., is a Dallas based retail electric supplier for residential, commercial, and small business customers. Incorporated in 2006, today the company brings cost efficient energy to all deregulated electricity markets and has plans to offer natural gas where available in each of its electric markets. Inc. magazine named Clearview #1 in Dallas, #3 in Energy, and #39 overall in the 2012 Inc. 5000, a list that celebrates the fastest growing privately held companies in the United States. The company also maintains an A+ rating from the Better Business Bureau and placed third in 2011's Dallas 100, the Dallas Business Journal's ranking of the city's fastest growing private companies. Frank McGovern, Clearview president, was listed in the Dallas Business Journal's Who's Who in Energy in 2011-2014. For more information about Clearview Energy, call 1.888.CLR.VIEW (888.257.8439) or visit http://www.clearviewenergy.com.