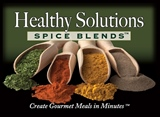 Milford, NH (PRWEB) January 28, 2015
On Super Bowl Sunday, the real game day battle is not on the TV, but between friends and family to see who can bring the most sought after foods to the party. Healthy Solutions Spice Blends has created two "BIG GAME" recipes that are sure to make you a game day champion at this year's Super Bowl party. Choose from Shrimp Sliders or Authentic Chili with Nachos. Both recipes are easy and quick to prepare and are a sure bet to boost your game day eating experience. For more recipes to get your game day juices flowing, go to http://www.spiceblends.com.
Authentic Chili with Nachos
Ingredients:
1 tbsp. olive oil
1 lb. ground beef or turkey
1 16 oz. package frozen mixed pepper and onion strips
1 14.5 oz. can diced tomatoes
1 4 oz. can chopped green chilies
1 15 oz. can pinto or black beans
1 15 oz. can kidney beans
1 packet Healthy Solutions Authentic Chili/Taco blend
Diced jalapenos, as desired
Tortilla chips
Directions:
SLOW COOKER: In large skillet, heat oil on medium-high heat. Brown meat; drain fat. Place all ingredients in a slow cooker and stir. Cover and cook on low for 8-10 hours.
STOVE TOP: In a large skillet, heat oil on medium-high heat. Brown meat; drain fat. Add pepper mixture, sauté for 5 minutes. Stir in remaining ingredients. Simmer covered for 1-2 hours.
Fill platter with tortilla chips. Top with Chili; add additional toppings as desired.
Shrimp Sliders
Ingredients:
1 lb uncooked shrimp - shelled and deveined
1/2 cup plain Panko crumbs
1 egg
1 tbsp Healthy Solutions Spice Blends Cajun Seafood
Great with seasoned mayo (optional)
Directions:
Chop shrimp into small pieces. May use a food processor, but be careful not to make it into a paste. Mix in Panko crumbs, egg and Cajun blend. Shape into patties. Place in pan treated with non-stick spray and cook on medium heat for about 1-2 minutes per side or until shrimp is cooked and pink. Top with your favorite condiments. Serve on a bun or as a lettuce wrap.
Seasoned Mayo: Mix 1/2 cup mayonnaise with 1 tsp of your favorite blend. We recommend Salmon with Dill, Shrimp Scampi, or our Cajun blends for the best flavor.
Healthy Solutions Spice Blends offers a full collection of spice blends in 16 distinct flavors for beef, pork, poultry and seafood. Each package contains a mouthwatering recipe and has a zip top for sealed in freshness.
Super Bowl Fun Facts

Over 700,000 footballs are produced annually for official NFL use and 72 of them are used for the Super Bowl.
The Super Bowl is measured in Roman numerals because a football season runs over two calendar years.
Of the top 10 most watched American television programs of all time, nine of them are Super Bowls.
The average number of people at a Super Bowl party is 17.
About Us:
Healthy Solutions Spice Blends™, LLC is located in Milford, New Hampshire and produces a branded line of All Natural, high quality, recipe ready spice blends that create healthy gourmet meals in minutes. Healthy Solutions Spice Blends uses only the highest quality spices that are available in 16 distinctive blends for easy preparation when cooking with fish, beef, pork and poultry. Made with no fillers or preservatives, the blends are low in carbohydrates, contain no MSG, and most contain no salt or sugar. Healthy Solutions Spice Blends offers the complete line nationwide for Chain Supermarkets, Independent Supermarkets, Gourmet Food Stores, Club Stores and Foodservice Operators. For more information, contact Healthy Solutions Spice Blends, LLC at 603-622-8744 or e-mail [email protected]