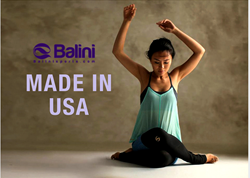 Miami, FL (PRWEB) January 27, 2015
Yoga Pose Weekly Partners with BaliniSports to Give Away Yoga Apparel
Lovers of yoga and fashion are buzzing about an online contest that's taking place this week. Yoga Pose Weekly is giving away a gift card for beautiful and environmentally friendly products from BaliniSports to the person who submits the best pose of the week. The lucky recipient of the gift card will have $50 dollars to spend on pieces from the apparel brand's current line of high-performance tank tops, pants, sports bras, detachable bras and shorts. The partnership between these two respected names in the yoga world seeks to raise awareness about the beauty and empowerment behind the timeless and enriching practice of yoga.
BaliniSports designs and produces socially conscious and planet-friendly yoga apparel in the United States. The brand holds firm to its commitment to avoid the use of harmful dyes and chemicals during production processes. Every piece from the brand's collection is created using impeccable fabrics and sophisticated engineering. Wicking technology is incorporated into the brand's fabric designs to prevent moisture from forming during even the most grueling of workouts. BaliniSports is vocal about promoting personal empowerment and caring for the planet by using responsible production methods.
While yoga apparel from BaliniSports is ideal for the gym and the yoga mat, it's also perfectly practical for everyday life. The brand designs flattering and colorful pieces that give every woman the confidence to feel sporty and casual while living life to the fullest. BaliniSports was recently featured in issues of OM Magazine and Muscle & Fitness Hers. Traci Anderson recently filmed a workout video wearing pieces from the latest collection by BaliniSports. The celebrity fitness expert is a favorite of Gwyneth Paltrow, Zooey Deschanel, Nicole Richie and Shakira.
Anyone interested in competing for the best pose of the week can submit a photo to Yoga Pose Weekly by following the instructions posted on the publication's website. Participants are encouraged to ask friends and family members to vote for their poses on the Yoga Pose Weekly website and on Facebook. The winner of this week's contest will be announced Sunday night. More can be learned about the socially responsible mission behind BaliniSports by visiting the brand's website and social media pages.