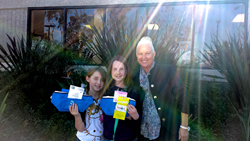 San Diego, CA (PRWEB) January 30, 2015
The San Diego plumber, Bill Howe, and the American Heart Association teamed up again for the fifth time to host the "Howe" Healthy is Your Heart Drawing Contest. The contest spans three months and the San Diego plumbing company celebrated at the New Children's Museum for the official "Kick-off Party" on Sunday January 11, 2015. Bill Howe Plumbing has been promoting healthy heart education through their sponsorship with the American Heart Association since 2010.
The "Howe" Healthy is Your Heart Drawing Contest officially began on January 1, 2015 and is entering into its fifth year in the San Diego community helping educate families about heart disease and stroke, the number one killer in San Diego. The contest ends on March 27, and Bill Howe Plumbing's sponsorship of the popular drawing contest culminates at the annual American Heart Association's Heart Ball held at the La Jolla Estancia Hotel & Resort. The San Diego plumbing company gives away $750 in Toys R Us gift cards to the Grand Prize Winner, age category winners and a "Facebook Favorite" winner. The contest is open to all San Diego residents' children ages 5-12, free to enter and the Grand Prize Winner also receives an exclusive invitation for them and their family to attend the Heart Ball.
At this year's launch party for the "Howe" Healthy is Your Heart Drawing Contest, there were games, activities and heart health education from the American Heart Association. Additionally, every attendee had the chance to enter for an early Toys R Us $100 gift card. And, guest who sent an R.S.V.P. via the San Diego plumbing company's website was automatically entered twice. The Target Free Sunday at the New Children's Museum was a great success, and the museum was at capacity for most of the day.
This year's winner of the Kick-off Party prize $100 Toys R Us gift card, is Brian Ramirez, a San Diego local. He R.S.V.P'd through the Bill Howe website and has two girls. The Ramirez family picked up the gift card on Friday, and the two girls spent the prize money to purchase toys for the children at Rady's Children's Hospital.
"This is one of our favorite times of the year," said Tina Howe, Vice President of the Bill Howe Family of Companies. "We are grateful to have the chance to help teach children the importance of living healthy lives, and helping the AHA spread the message of heart education, as well as passing on our own "pay-it-forward" spirit. We want to lead by example and believe it is important to make health education a priority in our company, family and community."
For more information about Bill Howe Plumbing, Inc., visit http://www.billhowe.com, or to speak with San Diego plumber, Bill Howe regarding this announcement, contact Bill Howe Marketing Director, Julie Riddle at Julie(at)billhowe(dot)com.
About Bill Howe Family of Companies
Bill Howe Family of Companies is comprised of Bill Howe Plumbing, Inc.; Bill Howe Heating & Air Conditioning, Inc.; Bill Howe Restoration & Flood Services, Inc. The family-owned and operated company began in 1980 with the plumbing division and has grown into San Diego County's largest low-cost one-stop-shop for service, repairs and installation, offering both residential and commercial services. 9085 Aero Drive, Suite B, San Diego CA 92123. Call 1-800-BILL-HOWE because We Know Howe!