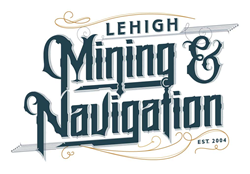 Lehigh Mining & Navigation might sound a little quirky, and that's a good thing in our business, but it accurately represents who we have become and where we are going
Bethlehem, Pa (PRWEB) January 26, 2015
Spark, Lehigh Valley's award-winning advertising and public relations agency, has changed its name to Lehigh Mining & Navigation, marking its evolution from a successful creative boutique to a strategic marketing and branding agency poised to expand its presence across the mid-Atlantic region.
The firm's new name, logo and website (LehighMiningAndNavigation.com) express a classic, industrial feel that reflects the region's industrial heyday while also communicating the deeper value the agency provides to its clients.
"When Spark started out more than 10 years ago, we were primarily a creative boutique," said Michael Drabenstott, managing partner at Lehigh Mining & Navigation. "Since then, we've acquired larger clients, embraced a more strategic approach to our work and added new capabilities. Lehigh Mining & Navigation might sound a little quirky, and that's a good thing in our business, but it accurately represents who we have become and where we are going."
The "Mining" part of the name refers to digging deep for insights into clients' brands and businesses while "Navigation" indicates how the agency strategically guides clients toward meeting their objectives.
While "Lehigh" reflects the corner of the country the agency calls home, Lehigh Mining & Navigation has aspirations that go beyond the region. "We want to be a dominant creative shop in the Mid-Atlantic region and work with a roster of clients any agency would envy," said Denis Aumiller, managing partner at Lehigh Mining & Navigation. "The new look and feel of our agency is reflective of how we've grown. We've grown into a team that produces work that is every bit as good as the leading advertising shops in the country. We needed an identity that is as special and unique as the work we develop."
In recent months Lehigh Mining & Navigation has won a number of national awards under its former name, Spark. The agency won two "MobileWebAwards," including "Best Music Mobile Application" and "Best of Show Mobile Application," for its guitar tuner mobile app created for C.F. Martin & Co. The MobileWebAwards recognize quality in mobile websites and applications, recognize the individuals and organizations responsible, and showcase only leading mobile development.
This past June, the agency won a 2014 National Gold ADDY award for the same C.F. Martin & Co guitar tuner mobile application. The National ADDY awards recognize the nation's best marketing materials each year and is conducted by the American Advertising Federation, the advertising industry's largest and most representative competition for creative excellence. A total of 75 Gold ADDY awards were handed out at the 2014 National ADDY Awards Ceremony. Only 33 ad agencies around the country claimed a Gold ADDY award in one of 12 different categories.
"Creativity is still central to what we provide," said Scott Byers, managing partner at Lehigh Mining & Navigation. "It's our job to identify, craft and execute compelling ideas into content that engages customers with our client's brands. Our evolving strategic mindset makes our work more powerful than ever."
About Lehigh Mining & Navigation
Lehigh Mining & Navigation is a full-service advertising agency with expertise in digital marketing, public relations and media. The agency's award-winning creative is grounded in well-developed and thoughtful strategy.
Lehigh Mining & Navigation is actively seeking new clients that share the company's creative philosophy. Interested companies can contact Michael Drabenstott at (484) 821-0920 x 704 or drabenstott(at)LehighMiningAndNavigation(dot)com