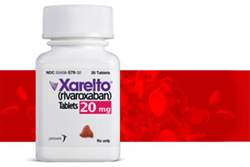 To learn more about filing a Xarelto lawsuit, please contact our office by calling 800-939-7878 today or visit www.legalactionnow.com.
Detroit, MI (PRWEB) January 28, 2015
Xarelto Lawsuits News & Information: The Oliver Law Group reports that as litigation is underway for Xarelto lawsuits alleging anticoagulant medication can lead to serious or fatal bleeding, the U.S. Food and Drug Administration (FDA) has approved revisions to the drug safety label of Xarelto tablets. The term, "thrombocytopenia," a blood and lymphatic system disorder, is now included under the " Adverse Reaction" section on the label. The firm notes, that also under Adverse Reaction, the term "cytolytic hepatitis" was replaced with "hepatitis (including hepatocellular injury)." Pfizer Inc., which manufactures the Xarelto blood thinner, explained in the prescribing information that because there is an uncertain size of the population voluntarily reporting these adverse reactions, it is not always possible to estimate how frequently these adverse actions occur or establish whether the reactions were caused by exposure to the drug.
[fda.gov/Safety/MedWatch/SafetyInformation/ucm367392.htm, December 2014]
[accessdata.fda.gov/drugsatfda_docs/label/2014/022406s015lbl.pdf, December 2014]
"We are working with men and women from around the country who believe they have suffered side-effects from the Xarelto blood thinner and welcome any label changes warning of prescription drug side-effects the FDA approves," states The Oliver Law Group.
Xarelto (rivaroxaban) is an oral anticoagulant approved by the FDA to treat blood clots in the leg (deep vein thrombosis) and lungs (pulmonary embolism) and to reduce the risk of stroke and blood clots in patients with atrial fibrillation (irregular heart rhythms). Xarelto has been considered a new generation blood thinner compared to warfarin (Coumadin, Jantoven), which has been on the market for 60 years. According to Xarelto's drug safety information, the most common adverse reaction to the anticoagulant is bleeding. The FDA notes that newer blood thinners like Xarelto, Eliquis and Pradaxa do not have antidotes to stop severe bleeding, whereas the 60-year-old warfarin uses vitamin K as an antidote should severe bleeding occur in patients who take the medication.
[fda.gov/NewsEvents/Newsroom/PressAnnouncements/ucm326654.htm, November 2, 2012]
[fda.gov/Drugs/NewsEvents/ucm405148.htm, July 17, 2014]
The firm recently found a study published in the November 2014 issue of Annals of Internal Medicine that found people who use anticoagulants such as Xarelto to treat atrial fibrillation and take nonsteroidal anti-inflammatory drugs (NSAID), such as aspirin, Motrin and Advil to relieve pain, are at an increased risk for serious bleeding. The study, conducted by researchers in Denmark, used data from 150,900 Danish patients who were hospitalized with atrial fibrillation between 1997 and 2011. The study found that after three months of taking an anticoagulant and being prescribed 14 days of NSAID medication, there were 3.5 serious bleeding events per 1,000 patients compared with 1.5 serious bleeding events per 1,000 patients who were not taking NSAIDs along with anticoagulants. Researchers noted that NSAID and anticoagulant use were associated with increased risks of serious bleeding no matter what type of blood thinner or pain-killer were prescribed. [annals.org/article.aspx?articleid=1935053, November 18, 2014]
The firm also notes, that court documents indicate that Germany-based Bayer AG, which makes Xarelto, and Johnson & Johnson's subsidiary, Janssen Pharmaceuticals, Inc. face lawsuits over the blood thinner medication. In December, the U.S. Judicial Panel on Multidistrict Litigation transferred all federally filed Xarelto lawsuits to the U.S. District Court, Eastern District of Louisiana for coordinated pretrial proceedings. One of the lawsuits recently filed was a wrongful death complaint filed on behalf of a patient who allegedly suffered fatal bleeding as a result of using Xarelto. According to the Xarelto complaint, the woman was prescribed the blood thinner in 2012, and nearly four months later, the woman was hospitalized for gastrointestinal and rectal bleeding. According to the complaint, physicians could not reverse the blood thinner's effects and the woman died three days later. The case was filed November 19, 2014 in the U.S. District Court, Middle District of Florida. (8:14-cv-02901)
The Oliver Law Group P.C. is speaking with clients across the country and offers free Xarelto lawsuit reviews to individuals who believe they have suffered serious internal bleeding and other complications due to their use of the blood thinner. To learn more about Xarelto side-effects and the ongoing Xarelto lawsuits, please contact our office by calling 800-939-7878 today.
About The Oliver Law Group P.C. And Filing A Xarelto Lawsuit
The Oliver Law Group P.C. is a different kind of law firm. One that focuses on the needs of the injured first. A compassionate law firm dedicated to fighting for the rights of victims and their families, and doing everything necessary to ensure those rights.
The experience of a large firm. The 1-on-1 dedication of a small firm. A reputation built on trust.
Experience. Dedication. Trust. The Oliver Law Group P.C.
If you would like to learn more about filing a Xarelto lawsuit, turn to the law firm with the Experience, Dedication, and Trust you deserve. Contact The Oliver Law Group P.C. for your free Xarelto case review by calling toll free 800-939-7878 today.