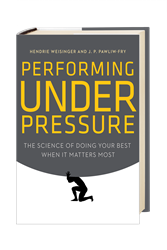 New York, New York (PRWEB) February 02, 2015
Contrary to conventional wisdom, no one performs better under pressure, not even Tom Brady, Derek Jeter or Li Na. And most people perform below their capabilities when they need to do their best.
Crown Business Books is set to release Performing Under Pressure: The Science of Doing Your Best When It Matters Most co-authored by psychologist Hendrie Weisinger on February 24th. Performing Under Pressure provides 22 scientific solutions that individuals can use to minimize and immunize themselves against the pressure of the moment, be it an interview, presentation, sales call, audition, taking a test, or tennis game.
The book's goal: to help people let their capabilities, not the pressure of the moment, determine their fate.
Summarizing and citing significant empirical research from multiple fields of psychology, neuroscience, and economics, the book demonstrates how it is undeniable that performing under pressure is a big problem for most people, even elite athletes. It's a point well made in The Pressure's Advocate: "Pressure changes everything," he says. It's easy to make money if you can handle the pressure required to do so is the film's bottom line message.
The video is a good example of art imitating life, and can be viewed at https://www.youtube.com/watch?v=ho-tEIqUc3c.
Dr. Weisinger substantiates, "It's a myth that athletes and other super stars rise to the occasion. When it comes to foul shooting in the play-offs, Michael Jordan, like all NBA players, performs below his proven capability. With baseball players, sophisticated statistical analysis show us that the clutch hitter does not exist, regardless of what the media touts. Let's not forget, in the book, The Natural, Roy Hobbs did not hit a majestic homerun. He struck out. That's reality."
Pressure downgrades the performance of rehearsed skills and is the major factor why a singer, dancer, or executive botches their audition or presentation. Similarly, nurses and physicians make critical omission and diagnostic errors under time pressure. Pressure doesn't just derail individuals; it's also a nemesis to effective teamwork, both on the field and in the office.
It gets worse. Pressure compromises morals and ethics. It causes smart kids to cheat, executives and managers to lie and violate rules of conduct, and marriages to crumble. There is also numerous data that yields counter-intuitive findings: well-practiced and conventional methods of motivating employees and children are actually pressure inducers and cause individuals to perform poorly and engage in behaviors that are counter-productive.
There is good news, though.
Researchers and clinicians from America, Australia, and the United Kingdom have discovered the nuts and bolts of how pressure works and why it has the power to always be a villain in life. Why does a singer, dancer, or manager blotch their well-rehearsed skill or presentation when they want to do their best? Why does the "A" student choke on their SATS or driving test?
Answers to these questions have allowed scientists to develop accessible strategies and techniques, many counter intuitive, that individuals can use immediately to help themselves perform to their capabilities in their pressure moments. Performing Under Pressure highlights 22 of these scientifically-proven prescriptive techniques that anyone can use to defuse pressure and give their best performance when the stakes are high.
Considering that pressure is universal and adversely impacts everyone, the arrival of the Crown Business book, Performing Under Pressure: The Science of Doing Your Best When It Matters Most, is big news.