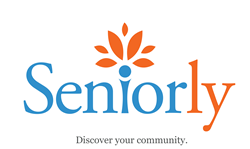 Seniorly gives people everything they need to make decisions on their own, by offering a simple and engaging user experience.
San Francisco, CA (PRWEB) January 28, 2015
Seniorly (https://www.seniorly.com) today announced the launch of its new senior housing marketplace that connects people searching for - and providers listing - independent living, assisted living, and memory care communities. Seniorly empowers people to make their own choices by giving them the tools they need to manage and complete their search process. Seniorly also gives small and medium businesses a platform to better compete with the larger corporations.
"Our founding team was frustrated with the lack of technology-enabled tools available to help family caregivers and their families find accurate and reliable information during a deeply personal and transformational time of life," says Arthur Bretschneider Seniorly's CEO and a third generation senior housing operator. "Seniorly was founded with the belief that transparency and simplicity are fundamental to making this process better."
Seniorly addresses a profound problem for an aging generation simultaneously tasked with caregiving for their parents. There are over 40 million people in the US acting as a family caregiver to an older adult. The average age of the person giving care is 50 years old, while the average age of the person receiving care is 77 years old. The 50 years olds, or young baby boomers, are going to nearly double in population during the next 20 years, and 60% of this group is already actively searching online.
Approximately 15-20% of senior housing businesses are small and medium sized, and most have little or no online presence. "There has been a lag in technology in the space," explains Sushanth Ramakrishna who is leading Seniorly's development. "More than 50% of the small and medium size businesses that have signed up on the Seniorly platform to showcase their unique value proposition have no web presence, and this is the San Francisco Bay Area!"
These businesses now rely upon third party agents, who typically drive leads towards only a small portion of communities that are available. Similarly, people are only seeing a fraction of what is actually available, and are rarely aware of all small and medium independent living, assisted living, memory care communities that can be hidden gems at lower costs. "This is the problem that Arthur first described when we talked about senior care and housing," Sushanth explains. "We decided to come up with a solution that works for all people involved in the process," adds Arthur.
The Seniorly solution breaks down the search process into two distinct groups: "Information Gathering" and "Ready to Move." The experience for people gathering information starts with a transparent open search. They don't need to enter any personal information to see what is available. Searchers can immediately browse unbiased, relevant content, including photos, videos, pricing, availability, links to the Department of Social Services inspection reports, and a full education center with valuable resources.
When searchers are ready to move, the Seniorly platform gives users a portal where they can save profiles and searches, share community profiles with loved ones, directly communicate with the providers (not third party sales people), book tours, and even add friends and family members to their portal to help. Seniorly gives people everything they need to make decisions on their own, by offering a simple and engaging user experience.
Arthur and Sushanth met at U.C. Berkeley Haas School of Business while pursuing their MBAs. Seniorly is now an investor-backed 7-person startup working from a small office space in San Francisco's Chinatown. Over 100 independent living, assisted living, and memory care communities have signed up in San Francisco, San Jose, and 10 other cities in the San Francisco Bay Area.
About Seniorly, Inc.
Seniorly is a marketplace for senior housing. Seniorly empowers people and providers to connect in a simple, unbiased, and transparent manner. To discover your community, visit us at https://www.seniorly.com.