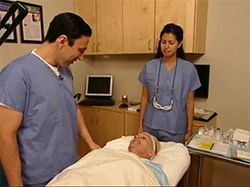 Los Angeles, CA (PRWEB) January 27, 2015
On January 16, 2015, Elle Magazine posted an online article titled "Thick, Lustrous Hair Could Be One Laser Appointment Away," that offers some causes for female hair thinning and loss and possible treatment solutions. According to the article, hair loss may be genetic but it also may be due to thyroid issues, nutritional deficiencies, and stress. The author notes that the composition of her own hair improved after she gave up gluten. Post-partum hair loss is due to hormonal changes and typically resolves on its own. (see: goo.gl/vlgf5W)
"As noted in the article, it's important for women to see a physician in order to determine the cause of their hair loss," says Dr. Simon Ourian, Medical Director of Epione Beverly Hills. "The earlier the intervention, the more likely we can offer meaningful improvement."
According to the Elle Magazine article, it's important to try to address hair thinning and loss when the hair follicles are still producing strands. At this point, the follicles can be treated back into a healthy state. At some point, if left untreated a dormant hair follicle may lose its ability to produce new hair.
"We are now offering Platelet Rich Plasma hair restoration treatments," says Dr. Ourian. "Also known as PRP, Platelet Rich Plasma is derived from the patient's own blood. It contains growth factors that stimulate the hair follicles when injected into the scalp."
Dr. Ourian has been a pioneer in laser technology and non-invasive aesthetic procedures including Restylane, Juvéderm, Radiesse, Sculptra, and CoolSculpting. These treatments are used for the correction or reversal of a variety of conditions such as acne, acne scars, skin discoloration, wrinkles, unwanted fat, stretch marks, varicose veins, cellulite, and others. More information about hair replacement can be found on Epione's website.