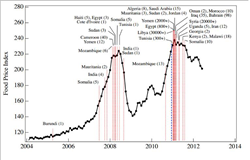 We could foresee the impending chaos...There were bubbles of civil unrest, literally like water boiling, popping up around the world
Calgary, Alberta, Canada (PRWEB) January 27, 2015
Friends of Science condemns Al Gore's accusations in his January 2015 World Economic Forum video presentation "What's Next? A Climate for Action" in which he blamed rising world food prices on Russian-block countries that withheld grain exports in 2010. According to a Jan. 31, 2012 study by the New England Complex Systems Institute (NECSI) entitled "Food Prices and Crises" US ethanol conversion policies are the key factor in world food price spikes in 2010, which have led to continuing global civil unrest.
In a telephone interview with Friends of Science, NECSI's President, Yaneer Bar-Yam, explained how food prices drive much of socio-economic unrest. "We could foresee the impending chaos," Bar-Yam said, "There were bubbles of civil unrest, literally like water boiling, popping up around the world."
The study "Food Prices and Crises" by NECSI predicted much of the present global chaos, and shows US food-for-fuel ethanol conversion climate change policies are mainly responsible for current global chaos as reported in the Aug. 15, 2011 edition of the MIT Tech Review.
The MIT article recounts how NECSI pointed out to the US government in December 2010 the link between high food prices and social unrest, just as critical global food price thresholds were about to be crossed. Four days later Mohamed Bouazizi set himself on fire in Tunisia, triggering a wave of civil unrest and revolt across the Middle East North Africa region that grew, expanding around the globe. The wave of unrest matches NECSI's food price threshold predictions.
Against a backdrop of other socio-economic or political issues, food prices are the trigger in developing nations where people live on a dollar a day or less, as reported by VICE "Motherboard," Feb. 19, 2014.
NECSI used complex mathematical models to plot rising world food prices, analyzing and identifying the key factors that lead to those food price increases. After eliminating other factors like drought, oil prices, and export changes, one main factor drove food price spikes – US ethanol conversion which now encompasses some 40% of the US crop production.
In the introduction of the NECSI report, food security expert Peter Timmer, Cabot Professor of Development Studies emeritus, Harvard University writes, "The model highlights the perverse impact that commodity market deregulation and subsidies for bio-fuel production have had on the global food economy. Fixing these problems will be very difficult because of the substantial vested interests now represented in both arenas."
Timmer's Feb. 22, 2011 article in the Wall Street Journal argues that "The tragedy is that the poor pay the price of their policy makers' failures."
Ethanol policies were implemented to reduce carbon dioxide (CO2) emissions and stop global warming. As reported in Forbes April 20, 2014, the CO2 and climate benefits of biofuels like ethanol are 'basically zero' - and that "the amount of corn used to make that 13 billion gallons of ethanol will not feed the almost 500 million people it was feeding in 2000. This is the entire population of the Western Hemisphere outside of the United States."
As stated in her Jan. 16, 2014 testimony to the US Senate atmospheric scientist Judith Curry suggests CO2 is not the 'knob' of climate change; natural factors are more influential. Curry testified that observed data show 15+ years of flat-lined global temperatures despite a rise in CO2.
About
Friends of Science has spent a decade reviewing a broad spectrum of literature on climate change and have concluded the sun is the main driver of climate change, not carbon dioxide (CO2). Friends of Science is made up of a growing group of earth, atmospheric and solar scientists, engineers and citizens.
Friends of Science Society
P.O. Box 23167, Mission P.O.
Calgary, Alberta
Canada T2S 3B1
Toll-free Telephone: 1-888-789-9597
Web: friendsofscience.org
E-mail: contact(at)friendsofscience(dot)org