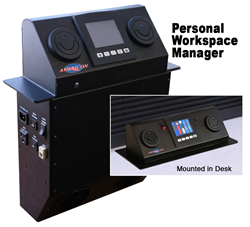 The phrase "Goes with the job" no longer has a place in the modern workspace
Camarillo, CA (PRWEB) January 28, 2015
No two people are alike. In the workplace, we each have needs that are different from our neighbors. If a workspace is not to a person's liking, then productivity and even attendance suffers. Human resource departments target the elimination of work place liabilities. How can an environment such as a call center or a 24/7 control room meet each person's needs?
Americon has designed and is in production of the first Personal Workplace Manager (PWM) that allows an individual at his or her work station to be within arms reach of all the controls necessary to create a safe and productive environment while minimizing task interruptions. The new PWM does that and much more.
It's features are:

It's an adjustable filtered air fan above the worksurface
It's an adjustable forced air heater below the worksurface
It's a controller for sit/stand lifting systems that employ linear actuators or hydraulic lifting systems
It's a controller for dimmable lighting systems
It's a home run for power with multiple outlets to minimize the need to use power strips
It's energy saving with a motion sensor to put itself to sleep when unattended
It's has a low profile and a small footprint so it's ideal for almost any size workstation
"We developed the new Personal Workspace Manager because adjusting to the needs of each individual leads to added productivity. The phrase "Goes with the job" no longer has a place in the modern workspace, " stated Bill Farah, President of Americon.
The system controller is a programmable LCD touch screen that is integrated into the attractive above counter turret that also holds the directionally adjustable air flow registers. Regulated air under the work surface is generated by a separate adjustable speed fan and an integrated heater element similar in design to those found in luxury motor homes and yachts.
The PWM's low profile makes installation easy and will not interfere with mounting monitor arms or other peripherals onto slatwalls. Utilizing a single 15 AMP power cord, this drop-in appliance is a step ahead in solving individual needs in the modern workplace.
ABOUT AMERICON
For over three decades, Americon has been the leader in the workstation technology. The company's root are in the design and manufacture of "Star Ship" style control centers for large mainframe computer facilities and has progressed over the years to designing and manufacturing custom solutions for call centers, dispatch centers, emergency management centers, NOCs and control rooms. Americon is also a nationally recognized audiovisual integrator who uses its multiple talents to give its customers turnkey solutions. Americon has a large showroom located at its headquarters in Camarillo. Visit Americon at: http://www.Americon-USA.com or call (805) 987-0412.