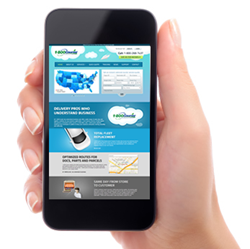 Atlanta, GA (PRWEB) January 27, 2015
1-800 Courier, a recognized leader in same-day delivery, distribution and transportation services, announces online special on-demand quotes online. The New Jersey courier makes the announcement to promote its variety of same-day shipping services, expand its' current customer base, and increase online sales. The online quote tool also positions the courier to service a wide range of freight delivery markets and long distance transportation services.
The special on-demand same-day delivery quote form is accessible online via 1-800 Courier's comprehensive website. Customers can click "Special On-Demand Quote" for service requests beyond the typical same-day delivery services offered on a daily basis. Special on-demand quotes include weekend courier solutions, multiple-stop services, scheduled messenger services, payroll route solutions, large equipment deliveries, long distance freight services, and more.
Within the special on-demand quote request, customers can also submit an RFP and RFQ bid proposal inquires to 1-800 Courier and its' sales staff will respond promptly. Customers are recommended to submit all contact information and a detailed description for accurate pricing. The courier offers the benefit of being a one-stop courier and transportation provider nationwide, positioning its' clients for easy accessibility to last minute, fast deliveries.
1-800 Courier offers on-demand courier services for last-mile deliveries, as fast as within an approximate two-hour window. For any questions regarding a special on-demand same-day delivery or current service adjustments, 1-800 Courier is available 24/7 to assist customers with their same-day delivery solutions.
1-800 Courier is a premier same-day courier offering transportation, messenger and distribution services. From small packages to palletized freight, 1-800 Courier delivers fast. As a leader in the courier industry, the goal of 1-800 Courier is to perform optimal courier logistic solutions and superior customer service every time. 1-800 Courier provides same-day delivery successfully for over 1,500 clients, including Fortune 500 companies nationwide.