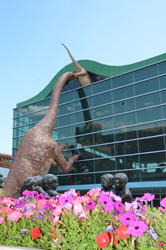 What do you get when you combine fun and imaginative family learning, authentic artifacts, and extraordinary programming? The 2015 lineup at the award winning Children's Museum of Indianapolis.
Indianapolis, IN (PRWEB) January 28, 2015
The world's largest children's museum celebrates 90 years of fun and imaginative learning in 2015. The Children's Museum of Indianapolis is off to an exciting start with news that it has been named one of the 10 Best Children's Museums in the U.S. by one of the world's largest publishers of travel and tourism information, Fodor's Travel.
Exhibits and experiences are always changing and 2015 will offer even more variety (please note there may be some minor adjustments closer to opening time):

Inside Hollywood Film & TV - You're on the Set! (Jan. 31-July 26, 2015)
Put yourself on the set of recreated television shows and films. Opportunities for role play amid authentic costumes and props invite families to imagine being the creators and actors that make film and television what families enjoy today.

Transformers: Robots in Disguise™ (March 7-July 26, 2015)
What are the secrets to creating something that can move and twist and contort itself into an entirely different being? The excitement and fast-paced action of a brand new animated series, ROBOTS IN DISGUISE from Hasbro Studios debuts this year and the exhibit will feature new characters that will be sure to inspire families to create even more new stories. TRANSFORMERS, all related characters and ROBOTS IN DISGUISE are trademarks of Hasbro and are used with permission. © 2015 Hasbro. All rights reserved.

Hot Wheels™: Race to Win (May 9-Aug. 16, 2015)
Buckle up with the most famous toy vehicles on the planet and be a part of a dynamic race team working together to build and test the fastest (and safest) speed machines on the planet. Hands-on experiences, race gadgets and authentic artifacts from several forms of racing will engage families in the process of experimenting with speed, power and performance using Hot Wheels cars and track as the their tools. Hot Wheels and associated trademarks are owned by and used under license from Mattel, Inc. © 2015 Mattel, Inc. All rights reserved.

National Geographic Sacred Journeys – (Aug. 29, 2015 – Jan. 31, 2016)
Join us on a spiritual and cultural journey around the world to discover powerful spaces and places that are the context and inspiration for celebrations, traditions, and pilgrimage. Visitors will see through the stunning lens of National Geographic photographers what these sacred spaces and places look like while exploring the beliefs that inspire the world's religions through sacred texts. Some of the major world religions and their artifacts will include Judaism, Christianity, Islam, Hinduism, and Buddhism.

Teenage Mutant Ninja Turtles: Secrets of the Sewer (Opens Sept. 26, 2015)
Nickelodeon's animated action-comedy series breathes new life into the iconic characters and now families will be able to join the team in the first-ever museum exhibit. The Teenage Mutant Ninja Turtles touring museum exhibit will feature these beloved pizza-eating, crime-fighting "Heroes in a Half-Shell" as they hone their ninja skills and problem-solving intellects with the power of their awesomeness. © 2015 Viacom International Inc. All Rights Reserved. Nickelodeon, TEENAGE MUTANT NINJA TURTLES and all related titles, logos and characters are trademarks of Viacom International Inc.

The Children's Museum Guild's 52nd annual Haunted House
This year's theme will be Pirate's Revenge

Jolly Days annual winter wonderland
Take part in a number of seasonal favorites including skating in socks on an indoor "pond," climbing and sliding on the Snow Castle, "ice" fishing, and pretend-baking holiday goodies in the Tradition Kitchen. For many visitors, a highlight of their trip to Jolly Days includes a visit and photo with Santa who will be waiting to hear what's on the wish lists of young museum visitors.

Santa's Big Arrival in a real race car with repelling elves
To the delight of excited boys and girls (and their grownups), Santa and his speedy driver pull up to the museum to greet everyone. And you won't believe what's up on the rooftop! If weather cooperates, a few of his "dare-dev-elves" have a special surprise for Mr. Claus and will repel off the top of the building next to the giant dinosaurs!

Fables Across Time: Kalila and Dimna (Opens Dec. 12, 2015)
Animal myths and stories capture the imaginations of children around the world. The moral lessons they convey are often handed down from generation to generation and shape who we become as adults. Hands-on activities, opportunities for role play, and digital e-books will provide an in-depth look at the moral lessons our cultures share and our unique methods for sharing those ideals across time and place. This exhibit is created in collaboration with the Bahrain National Museum in Manama, Bahrain.
2014 was also an award-winning year at The Children's Museum of Indianapolis! From receiving the National Medal for Museum and Library Service, celebrating the opening of Take Me There: China and China's Terra Cotta Warriors: The Emperor's Painted Army, to being named Best Family Museum in the U.S. by USA Today and recognized as one of the Top 20 Most-Visited Museums in North America according to the Global Attractions Attendance Report Museum Index 2014 - it was a year of extraordinary achievements.
Video of hands-on, intergenerational permanent exhibits is available along with high resolution photographs upon request. We will have images of the new, temporary exhibits listed below approximately a week before they open.
The Children's Museum of Indianapolis is a nonprofit institution committed to creating extraordinary learning experiences across the arts, sciences, and humanities that have the power to transform the lives of children and families. For more information, please visit http://www.childrensmuseum.org, follow us on Twitter @TCMIndy, Facebook.com/childrensmuseum and YouTube.