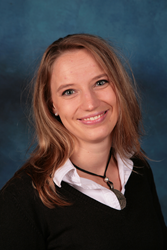 (Aurora, COLO USA) (PRWEB) February 02, 2015
This week, Graebel Relocation has announced the promotion of Monique Castor GMS to international account director for the EMEA region. In this role, Castor will be responsible for the relationship development and management of the Company's Global 100 and Fortune 500 clients with international relocation and mobility activities that occur in the region.
This marks the sixth promotion for Castor since she began her career with Graebel in 2008. During this period Graebel Relocation opened and expanded its in-region business centers which resulted in global career opportunities for its people during this timeframe. Her meteorite success in the organization is emblematic of the Company's double-digit growth that has led to exciting career opportunities for its people worldwide. Her position was an international assignment associate. Her strong performance and results led to multiple international consultant roles, followed by operational management roles within the Graebel EMEA regional business center. Most recently, Castor held the position of director, global operations.
A native of Germany, Castor is fluent in German and English. She graduated from the Evangelisches Gymnasium Neuruppin, Germany and the Technische University Berlin, Germany with a focus on business management. Castor also holds the Worldwide ERC® Global Mobility Specialist™ (GMS) designation.
About Graebel Companies, Inc.
Founded in 1950, Graebel Companies is a privately-held global organization that offers the full suite of employee and commercial office relocation, mobility management, workplace and consultative services for the Global 100 and Fortune 500. On-the-ground services are managed in 165 countries on six continents. The world headquarters is located in Aurora, Colorado USA with in-region centers throughout the Americas, APAC and EMEA regions. Known for its industry-first innovations, Graebel holds numerous quality and security credentials, and has earned accolades from its clients and from within its industry for its best-in-practice quality and market intelligence initiatives. To learn more visit: http://www.graebel.com
# # #