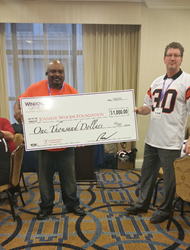 Window Genie is proud to be a small part of the enormous good The Jovante Woods Foundation is doing for families in the Tri-state area and beyond.
Cincinnati, OH (PRWEB) January 27, 2015
To speak about The Jovante Woods Foundation and on the importance of local businesses giving back to their communities, former Cincinnati Bengals fullback Ickey Woods attended the Window Genie Annual Convention from January 21-23 in New Orleans as a guest speaker.
For 20 years, Window Genie Founder and CEO, Rik Nonelle has encouraged all Window Genie franchise partners to connect to their communities through giving back to local causes they and their team feel a personal connection to; the Window Genie corporate team in Cincinnati feels leading by example is the best policy.
In February of 2014 Rik Nonelle met Ickey Woods while Woods was raising money for the Jovante Woods Foundation; he started the foundation after losing his son Jovante to a fatal Asthma attack in 2010. Unbeknownst at the time to Jovante's parents, Ickey and Chandra, Jovante had checked the organ donor box on his driver's permit and subsequently saved 5 lives and impacted dozens more through tissue donation.
About the Jovante Woods Foundation: According to their website, the mission is 3 fold; to continue an ongoing endowment in Jovante's name to help fund the work being done at Cincinnati Children's Asthma Research Division, to work with the LifeCenter Organ Donor Network to further education on the importance and impact of organ donation, and to award two scholarships a year through their "3.8 to be great" scholarships for academically successful high school athletes in the tri-state area.
Touched by Woods' story, Nonelle felt compelled to involve his team at Window Genie as a way to raise awareness and funds for the Jovante Woods Foundation. This past summer Window Genie helped sponsor a local celebrity golf tournament benefitting the Jovante Woods Foundation and the local Cincinnati franchise included photos and info about the Jovante Woods Foundation on a ValPak advertisement they had mailed to customers in the greater Cincinnati area.
Nonelle felt Woods' perspective as someone deeply involved in a cause that raised funds for a greater good in his community put him in a beneficial position to speak to all the Window Genie franchise partners attending the Annual Convention last week. Window Genie's corporate team presented Ickey with a $1,000 donation to the Jovante Woods Foundation at their awards luncheon at the Annual Convention in New Orleans and attendees purchased signed shirts and jerseys which netted an additional $2,000 in donations for the foundation. Nonelle said, "The love and support Window Genie has been able to show for Ickey and his foundation, he's given back to us ten-fold. He's in and out of our West Chester office all the time as a partner in our Windows 4 Wishes program, helping us discover different ways our team can participate in furthering the mission of his foundation, this past summer he also did the ALS ice bucket challenge with my corporate team and now he's attended our conference as a guest speaker. His presentation definitely made an impact on the 100+ attendees we had; our message of community citizenship and the impact each business owner can make in his or her own community was really well received. He's been a great friend to Window Genie and we're happy to have a local cause to support that we feel genuinely connected to. Window Genie is proud to be a small part of the enormous good The Jovante Woods Foundation is doing for families in the Tri-state area and beyond."
About Window Genie: Window Genie is the Cincinnati-based, nationally ranked home service franchise specializing in window cleaning, window tinting, pressure washing, gutter cleaning and more. Rik Nonelle started Window Genie as a small local window cleaning business in Cincinnati in 1994 and it has since grown to over 75 franchise locations in 24 states. Window Genie's Windows 4 Wishes program encourages each individual franchise partner to connect to their community through giving back.