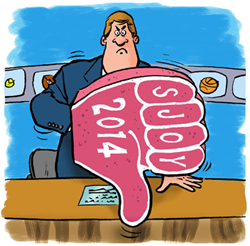 Kansas City, MO (PRWEB) January 28, 2015
Providing sports fanatics with the opportunity to voice opinions on the distasteful acts committed by sports figures in 2014, nominations are now open for the annual Tank McNamara "Sports Jerk of the Year Award."
"The 'Tank McNamara Sports Jerk of the Year Award' is not really celebrating bad behavior," Tank McNamara co-creator Bill Hinds said. "It's shining the flashlight of shame on the scurrying cockroaches of sports."
Past winners of the "Sports Jerk of the Year Award" include cyclist Lance Armstrong, Washington Redskins owner Dan Snyder, Major League Baseball Commissioner Bud Selig and former NFL wide receiver Terrell Owens.
"Sports Jerk of the Year" nominations are accepted only for individuals – not for a team, league, organization or corporation. Nominations are accepted in four formats through Friday, February 6:

The "Sports Jerk of the Year Award" winner will be announced on Friday, February 20 via the GoComics blog, its social media outlets, the Tank McNamara Facebook page and the Tank McNamara comic strip, available in hundreds of publications.
"The activities of the brats, scoundrels and cheaters of sports will cause dark clouds to boil overhead until the heavens open up and pound them with a deluge of scorn and shame," Hinds said. "Until then, there is the Tank McNamara Sports Jerk of the Year."
Co-created in 1974 by Bill Hinds and the late Jeff Millar, Tank McNamara successfully merges the sports and comics worlds with sizzling satire of the absurdities in big-time athletics.
Hinds and Millar met in 1973 when Millar — who once said he couldn't even draw stick figures — went out looking for a collaborator for an adult-oriented comic strip about sports. Tank McNamara began syndication through Universal Press Syndicate in August 1974.
From 2001 to 2010, Hinds also wrote and illustrated the comic strip Cleats, which focused on the complex world of competition and camaraderie from the perspective of kids, parents and coaches. Hinds and his family currently live in Spring, Texas, a suburb of Houston, which is his hometown.
Tank McNamara is available online at gocomics.com/tankmcnamara or via the GoComics mobile app.
About Universal Uclick
Universal Uclick is the largest independent content syndicate in the world and a leading digital entertainment provider of humor, comic strips, political cartoons and other content for print, Web and mobile devices. Universal Uclick provides editorial development, licensing and other distribution services for iconic brands such as Doonesbury, Dear Abby, Miss Manners and some of the most significant comics in history, including Calvin and Hobbes, Garfield, Peanuts, Dilbert, For Better or For Worse, Cathy and Ziggy. Recent standout successes include Lio, Cul de Sac, Pearls Before Swine, Get Fuzzy, Big Nate and The Argyle Sweater. A full comic catalog can be found at GoComics.com or via its mobile/tablet app on multiple platforms. For more information on Universal Uclick, visit UniversalUclick.com. To stay informed about news pertaining to Universal Uclick, its content and creators, follow the company's Twitter handle @UniversalUclick.
About GoComics
GoComics, from Universal Uclick, is home to many of the most popular comics and cartoons in the world. GoComics.com is the Web's largest catalog of syndicated newspaper strips and webcomics, offering new, fresh and free content every day. Classic and iconic comics include Peanuts, Calvin and Hobbes, Garfield, Ziggy and Dilbert. Recent successes include FoxTrot, Get Fuzzy, Pearls Before Swine, The Argyle Sweater, The Boondocks and Cul de Sac. GoComics is also home to Comics Sherpa, the site where aspiring cartoonists can showcase their work and receive feedback from the comic community. With content from critically acclaimed comic creators, Pulitzer Prize-winning editorial cartoonists and the hottest up-and-coming talents, GoComics is guaranteed to have something that will make you smile. A full comic catalog can be found at GoComics.com or via its free mobile/tablet app on multiple platforms.