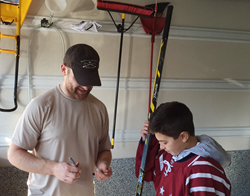 Potomac Garage Solutions installed a track system, cabinetry, hooks, and hanging accessories on the walls
Gaithersburg, MD (PRWEB) January 28, 2015
Alzner's Arlington, VA home featured an unfinished garage in need of well planned storage solutions. Alzner, who has a young family, wished to find a way to store items both on the walls of the garage and overhead. To address these needs, Potomac Garage Solutions installed a track system, garage cabinetry, hooks, and hanging accessories on the walls so that garage equipment could be stored and hung on the walls. Electric overhead storage units were also installed. Electric overhead units can hold up to four hundred pounds of stored goods, making them an excellent solution for off season equipment such as a lawn mower, bicycles, holiday decorations, and more. With the press of a button, the overhead units are lowered to ground level for easy access. Potomac Garage Solutions also used diamond plated grinding machines to clean the surface of the garage floor, which was then treated with a polyurea floor coating system, which sealed the surface and closed any cracks that existed in the flooring itself.
Mr. Alzner's garage joins several other garage remodels that Potomac Garage Solutions has completed for Washington Capitals players. Past clients include Alexander Ovechkin, José Théodore, Brooks Leich and former Washington Capitals coach, Bruce Boudreau.
Potomac Garage Solutions is based in Gaithersburg, MD and has showroom locations in Maryland, New York, and Florida. The company services Maryland, Virginia, Washington DC, the greater New York City area, Miami, and Fort Lauderdale.