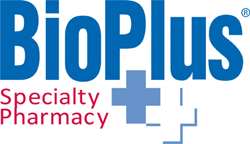 (PRWEB) January 29, 2015
BioPlus Specialty Pharmacy (BioPlus), announces today that URAC, the largest accrediting body for health care, has once again given BioPlus its seal of approval by accrediting it through a rigorous on-site process. This most recent accreditation from URAC adds to a growing list of accreditations that BioPlus maintains, including accreditations from ACHC and VIPPS.
"It's an honor to have yet another accrediting body, this time the prestigious URAC, determine that BioPlus 'measures up' as a specialty pharmacy – essentially saying that we perform at the highest level of quality in our field," says Elvin Montanez, Pharm.D., Senior Vice President at BioPlus. "It truly is a mark of distinction to have a quality organization such as URAC name us, in turn, as a quality organization," Dr. Montanez adds.
URAC, the industry leader for health care accreditation, is an independent, nonprofit organization that provides benchmarking services throughout the health care system. The URAC accreditation process included a review of all of BioPlus' policies and procedures as well as an onsite visit to confirm that the operations at BioPlus do, in fact, conform to stated policies. A committee of health care experts developed the URAC standards, which are updated every three years.
Since URAC is independent of any particular stakeholder group, consumers can feel confident that the accreditation process is impartial and not influenced by any industry interests. Accreditation from URAC serves as a symbol of excellence and demonstrates to patients, providers, and insurance payers that BioPlus is committed to meeting strict quality standards.
About BioPlus Specialty Pharmacy
BioPlus Specialty Pharmacy is the first specialty pharmacy to introduce a two hour turnaround from referral to patient acceptance. BioPlus... Where healing begins in 2 hours. Our company celebrates 25 years of excellence in specialty pharmacy, working closely with payers and the pharmaceutical industry, as well as with prescribers to get prompt treatment for patients, and directly supporting our patients nationwide to achieve optimal health outcomes. Our proprietary web tool Tap App, connects prescribers to the pharmacy by bringing the pharmacy chart into the doctor's office with real-time specialty pharmacy information and treatment monitoring.
BioPlus provides a complete range of infusion and specialty services, including for hepatitis C, cancer, bleeding disorders, and other complex, chronic conditions. BioPlus, a privately-held, pharmacist-owned company based in Altamonte Springs, Florida, is accredited by URAC, VIPPS, and the Accreditation Commission for Health Care (ACHC). More information about BioPlus is available at http://www.bioplusrx.com or toll free 1-866-514-8082.
For information: http://www.bioplusrx.com or
Contact: info(at)bioplusrx(dot)com
Phone: 1-888-292-0744
###