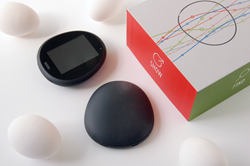 "We believe the Egg is a disruptive technology that will make the web personal by putting the consumer in complete control of who sees their digital content and exactly where it resides."
San Francisco, CA (PRWEB) January 27, 2015
Home videography and video sharing has become ubiquitous along with high-resolution photography and photo sharing. As this phenomenon continues to grow, consumers are faced with two problems, "How can I quickly free up storage on my phones and cameras? Where can I safely store my videos and photos but still be able to easily access them?"
The Eggcyte team, an innovative 'personal web' technology company, recognizing the need for a secure 'home' for consumer's digital files, invented The Egg. The Egg is the first personal web device that seamlessly extends phone and other device storage so users will never run out of space when it's most needed. The Egg also acts as a self-configuring personal web server that enables users to share videos, photos, music, or files without resorting to intrusive cloud-based services. The Egg is a place where consumers can store their personal content, control what they share, and control who they share it with.
"Over the past two years, our team has dedicated its work to meet these needs and to overcome the limitations of cloud-based services, thus inventing a ground-breaking design, with innovative engineering and an easy to use interface called The Egg," stated Barry Solomon, co-founder of Eggcyte. "We believe the Egg is a disruptive technology that will make the web personal by putting the consumer in complete control of who sees their digital content and exactly where it resides."
Based on the Intel® Atom®-platform, the Egg is equipped with a number of features that distinguish it from any other product on the market. Its unique shape is lightweight and rugged and small enough to fit in the palm of your hand. The device includes a personal website that lets users share their videos, photos and other private content without being tracked or scanned by the big cloud services, thus preserving the user's privacy. In addition, The Egg:

Automatically imports photos, videos and other content from any device that has a USB port including iPhones, Android phones, SLR and GoPro cameras
Expands the storage of mobile devices with up to 256GB of additional flash memory
Can be accessed from anywhere via the on-board personal website - which resides completely on the Egg.
Can be accessed locally via its on-board Wi-Fi hotspot or USB cable.
Includes password protection for complete control of user privacy
Is easy to set up and manage with its self-configuration for easy internet access and its intuitive UI
Comes with IOS and Android apps that lets users seamlessly access their Egg from anywhere
"The Intel® Atom™ processor offers secure, high-performance options with minimal power consumption to connect devices," said Doug Davis, vice president and general manager of the Internet of Things Group at Intel. "The Egg is an example of what can be built using Intel architecture to solve consumer technology problems such as secure media storage."
Pricing and Availability
The Egg has been in development for over two years. The project launched today on Kickstarter and will run for the next 45 days. With the help of many passionate individuals, this personal web device will be available in August 2015. On Kickstarter, The Egg will be available for as low as $199 for early-bird pricing.
"During trials we found The Egg to be tremendously versatile. Users took their Eggs with them on vacation or to events to make sure they always had space available on their devices when they needed it the most. They shared photos and videos moved to The Egg from their cameras and phones directly with family back home using The Egg's personal website. Other Users streamed movies and cartoons from The Egg to their kids' devices during long car trips, using The Egg's Wi-Fi hotspot capability", said Thomas Martis, co-founder of Eggcyte.
About the Egg
The Egg is roughly half the size of a smartphone. It uses an Intel® Atom™ application processor. It has Wi-Fi for Connectivity and a 2.4" - 320 x 240 pixel color touch screen.
Content can be seamlessly imported into The Egg using USB or Wi-Fi and stored in 64GB/128GB/256GB of onboard Flash. Users can leave The Egg plugged in and connected to Wi-Fi at home or carry it with them and connect to any available Wi-Fi access point at a coffee shop or airport. When unplugged and during normal operation, The Egg is expected to have 10–12 hours of battery life.
Additional specifications and features, include:
Application Processor and OS
Intel® Atom™ Processor
1GB RAM
64/128/256GB eMMC
Connectivity
WiFi a/b/g/n, BT4.0
Micro-USB 2.0 type-AB with USB charging
Audio
Vibra motor (haptics + silent ringtones)
Speaker notifications
Display
Size: 2.4" Multi-Touch capacitive touch TFT
Resolution: 240x320; 262K colors
Sensors
Accelerometer, Compass, Ambient Light Sensor
Battery
Li-Ion Battery Pack
4.35V, 910mAh
About Eggcyte:
Eggcyte is a startup, based in Chandler, AZ and San Francisco, CA, founded by a team of high tech professionals with a track record of delivering ground-breaking and disruptive consumer electronics products. Their flagship product, The Egg, is a personal web device that gives consumers the ability to store and share their personal photos, videos and other content without using traditional cloud services. To learn more about Eggcyte and The Egg, go to http://www.eggcyte.com
Intel and Intel Atom are trademarks or registered trademarks of Intel in the US and some other countries.