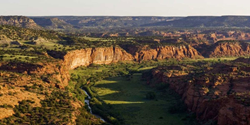 We're able to tell a property's story in all of its glory.
Denver, CO (PRWEB) January 27, 2015
Mirr Ranch Group launched Mirr Productions this month with the release of a narrative video featuring the JE Canyon Ranch. The real estate company, specializing in ranches and sporting properties, produced the video from concept to final production, a first for the industry.
"This video is a prime example of the high level and sophistication of Mirr Ranch Group's marketing capabilities. The production value is unique for our trade and represents just one of many of the tailored bespoke services we offer our clientele," explained Mirr Ranch Group Owner and Ranch Broker, Ken Mirr.
As Mirr Ranch Group Director of Marketing, Mallory Boyce, elaborates, Mirr Productions arose from the need to tell the story of the property and not simply show some nice pictures.
"Over the past few years, we worked with several real property and commercial video firms, and could never get the right feel and execution for our marketing videos. After this period of trial and error, we discovered that no one knows our listed properties better than our people. Now we are producing these videos from beginning to end with our brokers and production team, and we're able to tell a property's story in all of its glory. The results are quite spectacular," said Boyce.
The video was filmed in late fall of 2014. Mirr Ranch Group brokers, Daniel Carter and Jared Souza, as well as film guru, Willie Fowler, were instrumental in the production. Mirr Productions was able to benefit from their resources, skilled aerial photography and video capabilities, cinematography expertise, editing and video production experience.
"This production was truly a team effort at Mirr Ranch Group, and we are excited to carry this process forward for other clients and listings," added Mirr.
For media inquiries, to arrange for an interview, or to get an expert quote, please contact
Haley Mirr at (303) 623-4545 ext. 4. Photography available upon request.
About Mirr Ranch Group:
Mirr Ranch Group offers marketing and buyer acquisition services for fine sporting properties and legacy ranches for sale throughout the American West. Brokers for the company are known for their expertise in sporting, public lands and conservation in addition to their unsurpassed knowledge of ranch transactions.
For more information, contact:
Mirr Ranch Group
915 South Pearl Street
Denver, CO 80209
(303) 623-4545
http://www.MirrRanchGroup.com