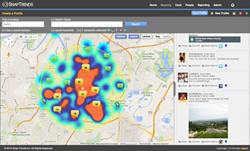 It's the perfect solution for organizations that recognize the immense value open social media insights can provide but that don't have the in-house resources to sort through such vast quantities of data.
Austin, Texas (PRWEB) January 28, 2015
SnapTrends, the worldwide leader in location-based social insights, is proud to offer its innovative services to clients through the new Professional Services Program. Clients can choose to pay a monthly fee to gain the valuable benefits of SnapTrends without having to purchase an annual Software-as-a-Service (SaaS) subscription. Each client taking advantage of the Professional Services Program will have a SnapTrends analyst assigned to their company to build custom search configurations and reports to realize the maximum potential of the data gleaned from the social insight-gathering software.
The beauty of SnapTrends' Professional Services offering is that it combines cutting edge location-based resource-gathering technology with deep data analysis. The world is experiencing the explosion of social media with people expressing their opinions on a wide variety of topics using a wide variety of social media networks. The speed with which social media topics are picked up and magnified by other users can be astronomical - a single post or image on Twitter or Facebook can instantly become viral and steer online conversation in totally unexpected directions. Just one customer complaining of a bad in-store experience can then be echoed by other social media users, raising the perceived negative quality of that particular brand. In partnership with SnapTrends analysts, clients can tap into this online chatter and chart trends, as well as see where the comments start and how they spread, to resolve issues quickly and effectively.
SnapTrends uses a patented SaaS solution that collects ten times more geo-specific social content than other solutions and delivers powerful analytics to help make sense of large volumes of data. Businesses, government agencies, school districts, and more can all use SnapTrends to their advantage in a variety of applications such as crisis management, intellectual property protection, customer experience and feedback, revenue and market research, brand awareness, and much more.
Laura Stich, Vice President of Marketing for SnapTrends, notes, "SnapTrends is a powerful and versatile tool that has given both public safety and corporate businesses an exciting way to gain insights and intelligence from posts, photos, videos, and other open social media chatter on a world-wide basis. The value of location-based social media insights is more than the ability to place pins on a map and filter on a keyword. The value is in the ability to provide the analytical toolset that enables clients to make decisions and take appropriate actions. Using SnapTrends as a platform, our Professional Services analysts will customize the real-time or historical search criteria, perform the analysis of the data collected, and provide actionable insights to the client through regular reports. Analysts can identify data and trends using criteria such as keywords, geographic locations, hashtags, or user handles, and our patented location algorithm process can pull up to ten times more geographic posts across public network information than other social monitoring packages. It's the perfect solution for organizations that recognize the immense value open social media insights can provide but that don't have the in-house resources to sort through such vast quantities of data."
About SnapTrends
SnapTrends takes you inside the conversation, strips away the noise and clutter, and illuminates the social media relevant to your business, organization or community. This information builds a clear view of social conversations when and where they unfold, the influencers driving those conversations, and why; ultimately giving you the ability to make more informed decisions and take more effective actions.
Founded in 2012, SnapTrends is a private company tucked in "Silicon Hills," the rolling hills surrounding Austin, Texas. At the intersection of two hot industries – cloud-technology and social media, SnapTrends is the leading provider of location-based social insights to industries worldwide.
###
For Media Contact:
Laura Stich | Vice President, Marketing
Snap Trends
8601 RR 2222, Building II, Suite 150
Austin, Texas 78730
email: lstich(at)snaptrends(dot)com
direct line: 512-716-8423