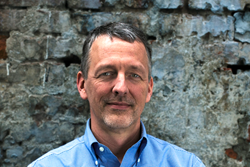 I see my role as helping companies stop talking so poorly.
San Francisco, Calif. (PRWEB) January 27, 2015
Ready State, a marketing agency pioneering a lean, transparent, and collaborative approach, announced this week that it has hired Derek Slater as content director.
Slater has more than a decade of senior-leadership experience at leading technology publications. He spent many years as executive editor of CIO Magazine, before serving as editor in chief of CSO Magazine and CSO online, the go-to publication for security executives. Most recently, he was editor in chief of FierceMarkets' Enterprise IT and Finance publications, including FierceCIO and FierceCFO. In his new role, Slater will help Ready State deliver the agency's characteristic jargon-free journalistic content to its high tech clients.
"I see my role as helping companies stop talking so poorly," says Slater. "To sound like real humans again, and to be more direct and plainspoken and helpful to their customers."
"It's funny how companies talk," continues Slater. "In everyday life, if you met a person who talked incessantly about himself or herself, and used weird stilted business jargon, and never admitted to any weakness or mistakes—that person would have no friends!"
"I've known Derek for 15 years," says Ben Worthen, Ready State's editor in chief. "He has an unmatched understanding of how technology executives think, a strong story sense, and a sharp eye for editing. He knows as much about running a publication as anyone you'll meet. He's also spent a lot of time thinking about how companies can benefit by applying some of the same techniques as successful journalists. We're excited to have him join our growing team."
Ready State has grown rapidly since it was founded in 2013. It plans to hire more experienced journalists and top designers throughout 2015.
About Ready State
Ready State was founded to provide marketing services that meet the needs of modern marketers. Today, the company is made up of strategists, creatives, designers, and journalists. The result is a new kind of agency that combines these disciplines in unlikely ways to create things that work for companies and customers. Headquartered in San Francisco, Ready State's clients include Google, Intel, and HP, as well as a variety of startups.