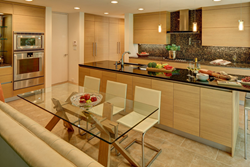 In this kitchen redesign, one of the goals of the homeowners was to create a kitchen that felt cozy and inviting
Chappaqua, NY (PRWEB) January 28, 2015
Modiani Kitchens, the Englewood, New Jersey based kitchen design and kitchen cabinets company, has completed a kitchen renovation in an artfully constructed modern home in Chappaqua, NY. The home was built in the 1980's and features extra high ceilings, skylights, a spiraling staircase, and incredibly unique architecture. However, the original kitchen in the home - while modern and functional - was not as impressive as one would expect in such a beautiful residence. Modiani set out to redesign the kitchen so that it felt congruous with the rest of the home in its functionality and aesthetics.
In this kitchen redesign, one of the goals of the homeowners was to create a kitchen that felt cozy and inviting. The kitchen shares space with an adjoining family room, and it was important to create some separation but for the kitchen to contribute to the comfort experienced in the family room and vice versa. In the original kitchen, a storage unit with a countertop worked to separate the two. It provided storage, but given that the countertop was so removed from the rest of the kitchen, it didn't provide a great deal of functionality. In addition to creating warmth and separation, it was also important to the family to have a seating area that was separate from the island in the center of the kitchen but was still within the kitchen itself. To address this, Modiani created an innovative banquette seating area, which features a long upholstered bench to one side of a long table and traditional table chairs on the other side. The bench, which provides ample seating, also features storage beneath. The banquette area acts as a divider between the kitchen and living rooms spaces, replacing the non-functional countertop storage combo from the original kitchen and providing the in-kitchen family style seating that the homeowners desired.
One of the challenges of the original kitchen was a lack of workspace on countertops. A square island in the original space meant that the majority of the square footage of the island was not accessible from the cooktop. To address this, Modiani installed a longer, more narrow island, which runs parallel to the counter that the cooktop is located on. This parallel setup is visually stunning and also doubled the amount of workspace in the kitchen. Horizontal lines are also implemented in the kitchen cabinets above the cooktop, creating a visual cohesiveness between the workspaces, the banquette seating, and the cabinets.
Other stylistic enhancements include a fully integrated refrigerator, glass shelving to the left side of the oven, and a minimalistic bar height glass table for the family's laptop.
Modiani Kitchens is a New Jersey based kitchen cabinet and kitchen design company that specializes in sophisticated design, European and traditional kitchen cabinetry.