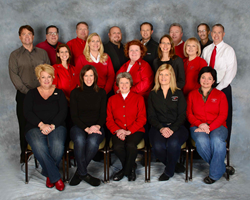 Chicago, IL (PRWEB) January 27, 2015
At the recent Strategic Planning Session, Women In Trucking's Board Chairwoman, Phyllis Cochran, welcomed the following to serve on the Women In Trucking Board of Directors effective immediately:

Brad Bentley, President, Truckload Carriers Association
John Dietze, Sr. Vice President-Dealer Sales, GE Capital Transportation Finance
Stanley Hampton, Vice President of Driver Personnel, J.B. Hunt Transport, Inc.
Patrick Pendergast, Senior Director of Talent Acquisition, Ryder System, Inc.
John White, Chief Marketing Officer, U.S. Xpress, Inc.
Marne Keller-Krikava, President & CEO, J. J. Keller & Associates, Inc. will begin her term in March, replacing current director and colleague, Jan Hamblin, whose term will end. Hamblin will continue to serve as Chairwoman of the Women In Trucking Foundation, Inc., a separate charitable organization.
The board spent two days focusing on the future goals of the Women In Trucking Association. The strategic planning session was led by Joel McGinley, Managing Director, TranStrategy Partners, Inc.
The organization is entering its eighth year and has grown to include 4,000 corporate and individual members located in the United States, Canada, Puerto Rico, Japan, Sweden, Australia, and South Africa. Sixteen percent of the group's members are men who support the mission to increase the percentage of women employed in the trucking industry.
"As we move toward continued growth and influence in the industry, we are increasing our impact through the addition of these high level executives who have exhibited a passion for our mission," said Ellen Voie, WIT's President and CEO. "The coming year will be an exciting time to use this momentum to bring more women into the trucking industry at all levels, from CEO to safety professional to technician and for our immediate focus on the driver population."
Future initiatives include a WIT Index to track trends in monitoring the percentage of women in management and as drivers in the industry.
The current board of directors includes Chairwomen Cochran, retired (formerly President/CEO, Navistar Financial Corporation), Vice Chairman, Mark Rousseau, National Logistics Manager of Frito-Lay, Inc., Secretary Jan Hamblin, Director of Sales-Strategic Accounts at J. J. Keller & Associates, Inc., Treasurer, Laura Roan, Sales Director at Hyundai Translead and Immediate Past Chair, Leigh Foxall, President, Skyway Marketing. Directors include Mary Aufdemberg, Director of Product Marketing at Freightliner Trucks, Mary Brown, General Manager at C. H. Robinson, Linda Caffee, Owner-operator leased to LandStar Express America, Brandie Fuller, Vice President of Marketing for Great Dane Trailers, Jeff Hammonds, Vice President, Walmart Transportation and Andreea Raaber, Vice President for Business Development at Bendix Commercial Vehicle Systems, LLC.
Women In Trucking Association, Inc. is a nonprofit association established to encourage the employment of women in the trucking industry, promote their accomplishments and minimize obstacles faced by women working in the trucking industry. Membership is not limited to women, as 16 percent of its members are men who support the mission. Women In Trucking is supported by its members and the generosity of Gold Level Partners: Bendix Commercial Vehicle Systems, Daimler Trucks NA, GE Capital Transportation Finance, Great Dane Trailers, J.B. Hunt Transport, Ryder, Inc. U.S. Xpress, and Walmart. Follow WIT on Twitter, Facebook, or LinkedIn. For more information, visit http://www.womenintrucking.org or call 888-464-9482.