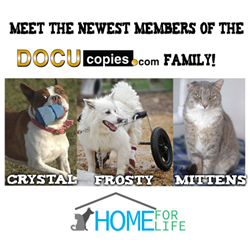 Animals who couldn't be adopted but who don't deserve to die can still live a great life if given that opportunity.
Hudson, Wisconsin (PRWEB) January 27, 2015
Despite the best efforts of the Humane Society and other animal rescue organizations, countless cats, dogs and other animals cannot be adopted to loving families. But thanks to organizations like Home For Life, there are options besides euthanasia for these misunderstood animals.
The online color printing company DocuCopies.com is proud to support their efforts this year with a contribution of $1,000 and sponsorship of three animals. The organization is also being promoted in the Charity Spotlight on their website.
"Saving the lives of millions of animals requires a multifaceted approach," says HomeForLife.org. "There will always be animals who are already born and are not good candidates for adoption. What will become of them? The old, those with medical issues, disabilities or behavior concerns?"
Home For Life wants to make a lasting difference not just for the animals they house, but to society's approach to animal adoption as a whole.
"Our Third Door model is exemplified by Home for Life's prototype facility in Star Prairie. Wisc., where our most important mission is to show what's possible: that animals, who couldn't be adopted but who don't deserve to die, can still live a great life if given that opportunity."
This latest philanthropic effort from DocuCopies.com shows their broad approach to making the world a better place. Past donations and sponsorships have benefited everything from epileptic children to chemically dependent adults, arts education in public schools to under-supplied American troops. But this is the first time they've sponsored an organization quite like this.
"We're ecstatic to be a part of this revolutionary solution to one of society's enduring moral dilemmas," says Roe Pressley, Vice President of Customer Relations and a philanthropic coordinator.
The company sponsored three animals in particular: Frosty, a beautiful white dog who's mobility has been restored by a cart he pulls behind him; Crystal, a spirited Boston Terrier whose deafness and energy level led to her being given up; and Mittens, a former farm cat who was partially crippled by gunshot wounds.
For more information on Home For Life or to donate and sponsor an animal, visit them online at http://www.HomeForLife.org. For more information on DocuCopies.com, their color printing services and their charitable contributions, visit them at http://www.DocuCopies.com.
-30-