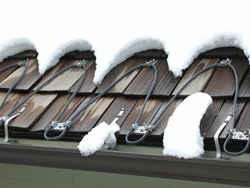 Patrick Mann, Nuheat VP of Technology and Operations 'We encourage citizens to take action on Red Cross' guide to Winter Storm Preparedness, they are the experts on being ready and prepared for disasters. Now is the time to take precaution'
Vancouver, BC (PRWEB) January 26, 2015
The whiteout has hit New York, while blizzard and winter storm warnings are up from New Jersey through Maine, and into Canada. Homes are going to be the safest shelter during this crippling storm set to slam the northeast; pipes need to be protected from water damage as well as roofs & gutters from leaking or collapsing. Nuheat Pipe Heat Trace and Roof & Gutter De-Icing plug-in kits are a quick and inexpensive precaution to save hundreds in damage, maintaining home and family safety during this winter storm watch.
The Red Cross reports in their 'Winter Storm Preparedness': consider installing UL-listed "heat tape," "heat cable," or similar materials on exposed water pipes. Pipe freezing is a problem because water has a unique property in that it expands as it freezes. This expansion puts tremendous pressure on whatever is containing it, including metal or plastic pipes. No matter the "strength" of a container, expanding water can cause pipes to break. Pipes that freeze most frequently are those that are exposed to severe cold, like outdoor hose bibs, swimming pool supply lines, water sprinkler lines, and water supply pipes in unheated interior areas like basements and crawl spaces, attics, garages, or kitchen cabinets. Pipes that run against exterior walls that have little or no insulation are also subject to freezing.
Source: http://www.redcross.org/prepare/disaster/winter-storm/preventing-thawing-frozen-pipes
Nuheat's roof & gutter kits will keep homes clear from ice dams. These are a pervasive and damaging winter roofing problem that form when melting snow on a roof runs off and refreezes at the edge of a roof. Nuheat's cable kits are placed inside gutters and downspouts to create and maintain drain paths or water avoiding serious harm to roofs, gutters, paint, insulation, drywall, structure and even mold prevention.
Nuheat Weather-Ready® plug-in heating cables specs:

Suitable for roof & gutter de-icing applications on shingle, metal, plastic, tar, wood roofs and metal or plastic pipes up to 6″ for pipe heat tracing applications
3ft cold lead length and standard three-prong plug, each cable can simply connect to any grounded 120V receptacle
UL C/US listed
Eligible for 10-year manufacturer's warranty
Self-regulating cable technology automatically adjusts the heat output of the cable based on the surrounding temperature to reduce energy consumption.
Nuheat can be reached at 1.800.778.WARM (9276) to find the closest Nuheat plug-in kit distributor. For more information visit: http://www.nuheat.com/freeze-protection/
About Nuheat
Nuheat is North America's leading manufacturer of electric floor heating systems and a distributor of heat trace for pipes, roof & gutters and slab. Nuheat's full-line of Freeze Protection Products offer practical, high-quality solutions for pipe freeze protection, roof and gutter de-icing, as well as slab de-icing and snow melting. Manufactured by cable giant Fujikura, Nuheat's Freeze Protection Products are the choice of professionals.
For additional information contact:
Katie Alexander
Public Relations Coordinator
Nuheat Industries Ltd.
1.604.529.4391
katiea(AT)nuheat.com