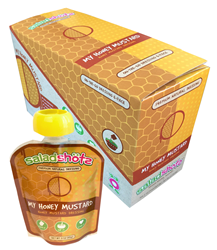 Saladshots Dressings Represent A New Leap In Healthy Eating
Los Angeles, CA (PRWEB) January 28, 2015
Saladshots, makers of on-the-go, uniquely flavored natural dressings announced today that it has started selling its dressings online at both http://www.saladshots.com and http://www.Amazon.com , and will begin selling in stores in the coming months.
With the funds raised from its successful Kickstarter 2014 campaign Saladshots was able to finalize its formulas, branding and manufacturing, and has begun initial production of its dressings. Saladshots aims to elevate the dressing category with its one-of-a-kind on-the-go natural dressings made with the highest quality ingredients that are a combination of low fat, low calorie, low sodium, low or no sugar, gluten free, and rich in antioxidants.
Saladshots, with its unique flavors and fun names such as Chocolate Chip (a low fat chocolate cranberry balsamic), as well as new classics like My Honey Mustard and Feel Good Ranch, opens up exciting healthy and innovative flavor profiles for those looking for mobile healthy dressing options. Saladshots are viable for a host of uses including bringing them with veggies or salads to work, adding them to kids lunches for school, traveling on-the-go, creating salads at salad bars, camping, and a host of other uses for people looking to eat healthy wherever they go.
Founder Adam Rubin, recently labeled the "Willy Wonka of Salads" by GoodMorningAmerica.com, states that, "Saladshots shows that fun and healthy can co-exist, motivating more people to eat healthy and helping to reduce obesity, especially in kids." In fact, several food bloggers have already noticed their kids increased excitement at eating salads and veggies with Saladshots.
ABC's TV show "The Chew" and other major print and online publications have also featured Saladshots prominently in articles (http://www.saladshots.com/press) about the possibilities with Saladshots for both adults and kids.
Overall, Saladshots fills a void consisting of the fact that:
1. There are no premium lines of natural portable dressings.
2. There are no lines of healthy, uniquely flavored natural dressings exciting to both adults and kids.
Saladshots introduces fun and healthy dressings with ground-breaking flavors and on-the-go packaging that will transform the way we eat salads and vegetables to help make healthy eating fun and combat weight problems and obesity.
About Saladshots, LLC
Saladshots creates, markets, and distributes delicious on-the-go dressings, and has a mission to be a leading natural food company that gives back to the community to help more people eat and access healthier foods. For more information, visit: http://www.saladshots.com. #Saladshots #PouritDipitLoveit