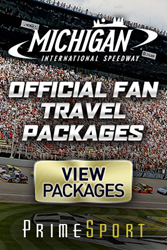 "PrimeSport has an extensive track record managing fan travel for high-profile sporting events, and we are looking forward to tapping into the unmatched travel services they can provide fans for our events."
Atlanta, GA (PRWEB) February 02, 2015
PrimeSport, the leader in providing direct access to the biggest sporting events, announced today a new partnership with Michigan International Speedway as the Official Travel Package Provider for the speedway. PrimeSport is offering NASCAR fans exclusive travel packages for the Quicken Loans 400 on June 14, 2015 and the Pure Michigan 400 on August 16, 2015.
"Our goal is to provide racing fans coming to Michigan with the absolute best experience possible, and we are excited about being able to offer that exceptional experience through our new partnership with PrimeSport," said Roger Curtis, President, at Michigan International Speedway. "PrimeSport has an extensive track record managing fan travel for high-profile sporting events, and we are looking forward to tapping into the unmatched travel services they can provide fans for our events."
As part of the partnership, PrimeSport is offering official Quicken Loans 400 travel packages and Pure Michigan 400 travel packages that include: two or three-night hotel accommodations, round-trip transfers to the race and airport, official welcome gifts, PrimeSport credential holder and lanyard, breakfast at the hotel and premium race tickets (with upgrades available). Each package is customizable and can be fit to a fan's specific needs.
"We are thrilled about our partnership with the Michigan International Speedway and the opportunity to offer racing fans an unforgettable and hassle-free experience when traveling to Michigan," said Sam Soni, CEO at PrimeSport. "We are looking forward to providing fans with a safe, reliable and officially sanctioned place to buy official travel packages."
For more information on the Official Travel Packages for races at Michigan International Speedway, visit PrimeSport.com.
About PrimeSport
PrimeSport is the leader in providing direct access to the biggest sporting events, offering tickets, travel, hospitality, and VIP experiences for corporations, professional sports teams and fans. PrimeSport's extensive experience in sports travel, hospitality and ticketing has allowed the company to form long term, official partnerships with some of the largest sporting events and organizations in the country. As a result, PrimeSport can provide more exclusive access to more events than any other company in the industry. Official partnerships include select NCAA Championships®, including the NCAA® Men's Basketball Tournament and Men's Final Four®, Men's College World Series®, Division I Wrestling Championships, Women's College World Series®, Women's Final Four®, Women's Volleyball Championship and Men's Frozen Four®, NHL, 20 NFL teams, 2015 College Football Playoff National Championship, Rose Bowl, Sugar Bowl, Alamo Bowl, Orange Bowl, Holiday Bowl, Poinsettia Bowl, Chick-fil-A Bowl, Chick-fil-A Kickoff Game, AdvoCare Texas Kickoff, State Farm Champions Classic, Jimmy V Classic, 2K Classic, Gotham Classic, Legends Classic, Wrangler National Finals Rodeo, Feld Motor Sports, more than 40 major NCAA Division I universities, nineteen NASCAR speedways and more. PrimeSport is a privately-held company, headquartered in Atlanta, GA. For more information, visit PrimeSport.com or call 800/591-9198.
NCAA, College World Series, Final Four, Frozen Four, Wrestling Championship, Women's College World Series and Women's Final Four are trademarks licensed or owned by the National Collegiate Athletic Association.
About Michigan International Speedway
Nestled in the lush Irish Hills of Brooklyn, Mich., about 75 miles from Detroit, Michigan International Speedway is the Great Escape, a NASCAR national park where race fans and drivers like to get away. It's the thrill of the party and the fastest track in NASCAR. For information, please visit us at http://www.MISpeedway.com or call 800-354-1010.
####
Media Contacts:
PrimeSport
pr(at)primesport.com