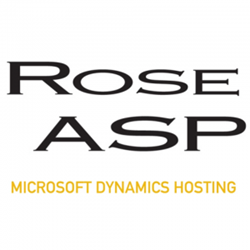 ...we want to be the first to show how great the product works in the cloud
(PRWEB) January 27, 2015
The latest functionality updates and new features in Microsoft Dynamics GP 2015 are now available for 30-day trials through RoseASP, Microsoft Dynamics SMB Partner of the Year - 2014. Microsoft released Dynamics GP 2015 in December and RoseASP has made the new version of GP available to test drive through the goERPcloud Dynamics demo environment, announced RoseASP, Tuesday.
"Giving prospects, customers and partners a platform to try and test new products is core to our existence as a Microsoft Dynamics Hosting Partner," said Linda Rose, Founder and CEO of RoseASP. "Dynamics GP has become one of the most popular ERP solutions because it is powerful, flexible and easy to use, and each new version improves upon the last. This latest version is the most cloud-ready and mobile-ready we have seen and extends the use of the Dynamics GP to a larger group within a company organization, and we want to be the first to show how great the product works in the cloud."
Microsoft Dynamics GP 2015 includes improved navigation for approval processes with Workflow 2.0 and added self-service features that allow employees to change their personal information on Payroll Timecards, Employee Profile, Employee Skills, Payroll W4, and Payroll Direct Deposit.
Native workflows help streamline financials, AR and AP, sales, payroll, and project expense related approvals. These workflows make it easier for the end user to tailor their solutions and accelerate business processes.
RoseASP hosts Microsoft Dynamics GP 2015 in a highly compliant cloud environment for businesses of any size and powers Dynamics GP 2015 trials through goERPcloud.com.
For more information on all of the features inside Microsoft Dynamics GP 2015, download the Product Capabilities Guide.
About RoseASP
RoseASP provides flexible cloud and hosting solutions for Microsoft Dynamics ERP and CRM on Windows Azure and in RoseASP's private cloud, available through Subscription pricing with a comprehensive Service Level Agreement. Since 2000, RoseASP has hosted systems for small and mid-sized companies and a growing number of Microsoft Partners around the world. RoseASP specializes in FDA, SOX, and HIPAA cloud compliancy for heavily regulated industries and publicly traded companies. With a highly skilled and experienced team of experts in hosting financial and accounting systems and related modules, RoseASP takes pride in customer service and has been named Microsoft's Cloud Partner of the Year for SMB. For more information about RoseASP, visit http://www.roseasp.com.
About goERPcloud
goERPcloud is the first on-demand Microsoft Dynamics Cloud Marketplace that allows you to test drive different flavors of Microsoft Dynamics AX, GP, NAV and CRM with preconfigured 3rd party ISV applications. goERPcloud boasts a robust ecosystem of Microsoft Dynamics Partners, helping businesses find the cloud-based software solutions that best fit their current and future business needs. Since 2000 RoseASP.com, the power behind goERPcloud, has provided hosted Microsoft Dynamics ERP and CRM applications to businesses around the world. For more information about goERPcloud, visit http://www.goERPcloud.com.
For more information contact:
Emily Matkin, (858) 794-9403, emily(at)roseasp(dot)com