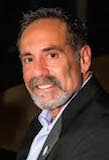 SARASOTA, Fla. (PRWEB) January 28, 2015
Veteran Tampa Bay multi-media executive and artist Barry Rothstein has joined Consonant Custom Media as Director of Business Development.
For the past 25 years Barry has held several senior-level sales and market development positions with MCI/Worldcom, Maddux Report and Tampa Bay Business Journal.
Barry has been an active member and tireless networker with several chambers of commerce in the Tampa Bay area, receiving a multitude of awards for service to the community.
He's also been a dedicated fundraiser and volunteer for many non-profits in the region, including R'Club Child Care, Pet Pal Rescue, Community AIDS Network, ASAP, Suncoast Hospice, MS, Equality Florida, Alzheimer's Association and more.
CCM Publisher/Creative Director Steve Smith said, "Barry's knowledge of the Tampa Bay business community, and his combined experience in media sales and the nonprofit sector, will help us grow and help our clients share the stories behind their brands."
Barry is also a pastel artist and juried member of the Pastel Society of America. His works are in private collections and have been exhibited internationally.
About Consonant Custom Media:
Consonant Custom Media provides custom publishing and content marketing solutions for hospitals and healthcare systems, nonprofits, foundations, medical research institutions and others who want to make more meaningful connections with their communities of interest. CCM puts the "custom" back in custom publishing by creating original content that is truly consonant, or in harmony, with our clients' brand values. We use traditional and digital executions to help our clients share the stories behind their brands and reach specific objectives in perception management, sales, donor development and government relations. The firm is headquartered in Sarasota, Florida with regional representation in New York, NY and Sacramento, CA. CCM can be reached at (941) 309-5380 or on the Web at http://www.consonantcustom.com.