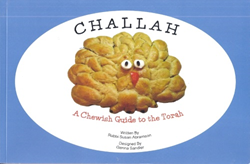 Challah, a Chewish Guide to the Torah is a fun book that will motivate famiies and teachers to make Torah study a tasty part of their lives."
College Park, MD (PRWEB) January 28, 2015
Oy Toys, promoter of The Rabbi Rocketpower Series, Jewish books written by Rabbi Susan Abramson, celebrated the recent publication of the newest book, Challah, a Chewish Guide to the Torah, at the 63rd Annual Jewish Educators Assembly Conference. Educators were delighted at the new book that combines humorous challah designs with tastes of Torah. Abramson is the rabbi at Temple Shalom Emeth in Burlington, MA. Challah: Chewish Guide is her fifth book.
Oy Toys is a leading Jewish toy company that sells products on line and at its Roswell store. The company was established in 2004 and specializes in Jewish toys and gifts. Its web site is http://www.oytoys.com Parent company, ATSR Enterprises, originally known as And Thou Shalt Read, specializes in books, toys, and other materials for the Jewish classroom. Its web site is http://www.AndThouShaltRead.com .
In realizing its mission of promoting Jewish education, Oy Toys carries the Rabbi Rocketpower series books that not only expose children to delightful stories about Jewish holidays, but offer a little mind-bending treat as well. With the combination of fun challah designs and tastes of Torah, this newest book is a perfect classroom teaching tool for all ages. The book began several years ago when Rabbi Abramson was making educational challot for her son who is now in college.
"After a friend posted a picture of her challah shaped as a menorah, I was inspired to create challahs that represented some part of each Torah portion. I hope this book will motivate families to the weekly practice of not just making challah, but making challah with a taste of Torah." Oy Toys owner RuthE Levy said, "'Chewish Guide' is a fun book that is great for both home and the classroom. We're proud to be able to offer all of 'Rabbi Rocketpower's' books at Oy Toys and And Thou Shalt Read." The books in the Rabbi Rocketpower Series currently include Who Hogged the Hallah, a Shabbat Shabbang, The Half-Baked Matzah Mystery, The Mystery of the Missing Menorah, and Tooty-Fruity Tale for Tu Bishvat,. They are being featured at the Jewish Educators Assembly in College Park, MD. Other new books being featured are Shira Detective – Chametz Detective by Galia Sabbag, The Happiness Tree by Andrea Gosline, and Finding Zero by Amir Aczel.
All of the Rabbi Rocketpower books are available at http://www.OyToys.com and http://www.AndThouShaltRead.com .