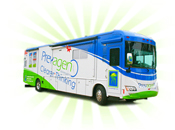 LAKELAND, Fla. (PRWEB) January 27, 2015
The Prevagen Better Memory Tour has stopped in Lakeland, Florida, and is ready to serve thousands of attendees at the 2015 Snowbird Extravaganza, one of the largest mature lifestyle shows in the United States.
Every year, more than 30,000 active seniors gather for a lively day that includes hundreds of exhibitors, guest speakers, live entertainment, and more at the Lakeland Center.
Prevagen, America's best-selling brain health supplement, has partnered with the Snowbird Extravaganza by offering attendees the opportunity to test and track their memory by stopping by the Prevagen booth and exploring the various ways they can improve their cognitive health.
Complimentary copies of The Brain Health Guide written by neuroscientist and brain health expert Mark Underwood, will also be offered where readers will get the latest healthy aging tips and proven memory-boosting techniques.
The event will be held Jan. 27-28 at the Lakeland Center in Lakeland, Florida. Admission is free and doors will be open from 9 a.m. to 4:30 p.m.
For more information, please visit http://www.snowbirdextravaganza.com.
About Quincy Bioscience:
Quincy Bioscience is a biotechnology company based in Madison, Wisconsin, focused on the discovery, development and commercialization of novel technologies to support brain health in aging, with a specific emphasis on memory support and cognitive health. Quincy Bioscience is set apart by its cutting-edge applications of the patented protein apoaequorin, which has been tested to show improvements in cognition and memory in clinical trials.