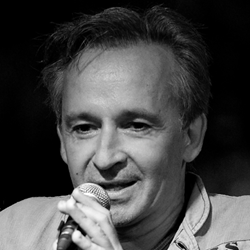 New York, NY (PRWEB) January 30, 2015
Moscow 57 has announced the return of the internationally acclaimed Barcelona-based performer and composer, Alfonso Vilallonga, to New York City. Vilallonga, who sings fluently in English, Spanish, French and German, will perform for four night at three venues in one week. On Thursday, February 19th at 7:00pm, he will appear as a solo artist at Metropolitan Room, 34 West 22nd Street. Tickets start at $22.50 and are available through The Metropolitan Room's website:
http://metropolitanroom.com/event.cfm?id=176821.
On February 18th and 20th, Arts Brookfield will present Alfonso at The Winter Garden at Brookfield Place on Vesey Street to perform the score he composed for the silent film, Blancanieves, with the Wordless Music Orchestra while the film is being shown at 8:00pm. Alfonso will play accordion, ukulele and banjo. The performances, which will be conducted by Ryan McAdams, will also feature Julian Koster on musical saw.
Based on the "Snow White" fairy tale, Blancanieves was written and directed by acclaimed Spanish director Pablo Berger in 2012. Set in a romantic version of 1920's Andalusia, the silent black-and-white fantasy swept the 2013 Gaudí awards (known as the Spanish Oscars), winning Best Director, Best Screenplay, Best Actress, and Best Catalan-Language Film, among others, and was one of the year's most popular films in Spain. The film was nominated for an Academy Award for Best Foreign Language Film 2012.
The Arts Brookfield series is curated by WNYC's John Schaefer.
On Saturday, February 21st, Vilallonga, will make a special guest appearance at Moscow 57, the Russian Central Asian restaurant and live music venue on the Lower East Side, where he will join M57 regulars Yuri lemeshev and Jordan pettay with the M57 Band. Last autumn, Moscow 57 launched Vilallonga's latest album, Alphoshore Variations, in the US with a concert at The Cutting Room.
Alfonso Vilallonga and Moscow 57 have a long history. M57 owner Ellen Kaye first met Alfonso at The Algonquin Hotel, when they were both performing on Steve Ross's radio show about 20 years ago. "I remember she sang 'One Meat Ball' sort of hiding behind an arm chair. I was singing songs from my recent record 'The End of an Era,' a bunch of decadent songs about the falling of my aristocratic family in Spain, my prejudices about marriage and my wishes to reincarnate into Edith Piaf. We spoke after the show and before we said goodbye, she whispered to me, "and please stay out of jail!"
Ellen and Alfonso found a way to reconnect through Moscow 57's podcasts, the M57 On-Air Urban Salon, which can be heard at http://www.moscow57.com/radio.html. In Episode 6 of the M57 podcasts, Ellen interviews Alfonso and plays songs from his album 'Alphosphore Variations.' This was the first time the songs were heard in the United States.
ABOUT ALFONSO VILALLONGA
Alfonso Vilallonga is an internationally touring singer, songwriter, musician, composer and actor, born in Barcelona, Spain, to a musical family. He sings fluently in Spanish, Catalan, French, English and German. Vilallonga earned his Masters in composition and singing from the Berklee College of Music in Boston. His influences include but are not limited to Jacques Brel, Tom Waits, Nino Rota, Boris Vian, Kurt Weill, Freddie Mercury, Randy Newman, Édith Piaf, and Thelonious Monk. He lived in the US for 10 .years, during which time he recorded two albums: 'At the Edge' and 'The End of an Era.' In 1993, he returned to Spain, where he found that the music scene, in his own words, "incited suicide".
Alfonso instead chose to release his first album in Spanish, 'Bugui del Conformista,' and began performing in Catalonia and Spain. His subsequent albums are 'Adultus' (Cantata, L'Auditori 2005), 'En vivo y en directo' (G3G Records 2006), 'Libérame' (K Industria 2009), and his latest, 'Alphosphore Variations' (2013), which was released in the United States by Moscow 57, and is available at cdbaby.com, itunes and all other digital platforms. In New York City, Alfonso performed at the legendary Ballroom on West 28th Street and The Cutting Room, among other venues.
It was thanks to the encouragement of Isabel Coixet that he began scoring films, most notably, 'Blancanieves' (2012), which is a silent film, nominated for Best Foreign Language Film Academy Award and 'Transsiberian' (2008). Vilallonga composed the music for three films, a documentary and a theatrical work for Coixet. He worked for Fernando Leon de Aranoa and Brad Anderson, among other directors. Vilallonga has written music and lyrics for several musical theater projects, including Dagoll Dagom's 'Aloma,' and for his own shows, such as 'Turning Point,' which he describes as 'the first musical palindrome in history.'
ABOUT METROPOLITAN ROOM
Voted #1 Jazz Cabaret Club by New York Magazine, The Metropolitan Room is one of the most critically acclaimed venues in NYC and is known as the "Home" for big name talents and rising stars. This famed, Flatiron District, 22nd Street bastion for singers, is located in the heart of Manhattan in the Flatiron/Chelsea District. A high-end cabaret and jazz club, the Metropolitan Room brings the best in live music to New York City. Every night of the week, at 7pm, 9:30pm and 11:30pm. Fabulous award-winning Broadway, TV, Film and Radio performers take the stage in an intimate 115-seat atmosphere reminiscent of the golden age of cabaret. Our renowned Chelsea club and performance space provides an intimate room for a range of entertainments as diverse as New York itself. From spectacles like "The Sophisticates: Strip as it was Meant to be Teased" to performances by drag comedienne Hedda Lettuce, side-splitting comedy acts and moving cabaret sets by top Broadway stars, the 115-seat room provides the perfect setting for audience-pleasing shows, night after night.
ABOUT BROOKFIELD PLACE
Brookfield Place is the height of luxury shopping, dining and cultural arts in downtown Manhattan. The center is uniquely positioned just south of Tribeca along the Hudson River waterfront. International fashion houses including Hermés, Salvatore Ferragamo and Ermenegildo Zegna, and top brands such as Theory, Michael Kors, Diane von Furstenberg, Vince, and Paul Smith will open in 2015. Opening in 2016, a 75,000-square-foot Saks Fifth Avenue department store will anchor the entire project, revolutionizing the luxury shopping experience downtown. Best-in-class dining options will include recently opened Hudson Eats, a curated collection of 14 chef-driven fast-casual eateries; Le District, a 30,000-square-foot French-inspired marketplace; and six signature restaurants including L'Atelier Amada and Parm, which will provide al fresco dining. Complimented by Arts Brookfield, an elite arts and events program offering world-renowned cultural experiences, Brookfield Place is set to transform downtown Manhattan as the premier destination for residents and visitors alike.
ABOUT MOSCOW 57
Moscow 57 on Delancey is a Russian Central Asian boite from a New Yorker's perspective, with live music nightly. Owner Ellen Kaye's parents, Faith Stewart-Gordon and Sidney Kaye, owned the Russian Tea Room from 1947 to 1996.
Moscow 57 is producing M57 Straight from Delancey, a new radio show Sunday nights on WVOX- AM/WVIP-FM beginning late August 2014.
Moscow 57, the hospitality and entertainment company, was launched several years ago by partners Ellen Kaye, Seth Goldman and Ethan Fein. For the past two years, the company has been hosting its M57 Urban Salons, evenings of music, food and digital visual art displays, in Harlem; Washington Heights; Chelsea; the Upper East Side; the East Village; Governors Island; New Milford, Connecticut; and New Orleans. Moscow 57 has made New Orleans a home away from home, with regular forays into that city's world-renowned culture of Southern hospitality, regional cuisine, and world-class entertainment.
After performing at and co-producing events with New York's Corcho Wine Room, as well as celebrating Latin American culture in New Orleans, this cosmopolitan attitude is being brought to Moscow 57's permanent home on New York City's Lower East Side every night.
Moscow 57 Entertaining, created in partnership with Ethan Fein, is developing projects for film, television and theater. Its music company produces podcasts, live performances, recordings and videos. Moscow 57's first CD releases have already garnered national radio airplay, and the company's videos can be seen on the Moscow57Entertaining YouTube channel. M57 Straight from Delancey, the company's radio show with a live audience has already broadcast 14 episodes on WVOX1460AM. All of these episodes are archived at Moscow 57's website http://www.moscow57.com.