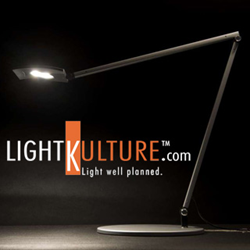 I have fallen in lighting love with the Koncept Mosso Pro LED desk lamp. Never have so many functions been built into one task lamp, allowing the user to control so many features with the touch of a finger.
New York, NY (PRWEB) January 28, 2015
LightKulture.com is very excited to offer Mosso Pro LED desk lamp from Koncept.
"This intuitive, highly integrated LED task lamp has so many convenience features; it becomes an extension of the user is serves," noted Susan Inderbinen President of LightKulture.com.
The Ng Team of designers, Peter Ng, along with his sons Kenneth and Edmund Ng, are well known for their minimalist sense of design. A native of Hong Kong, Peter studied in Texas in the early 1970s. Although he returned to Hong Kong in the late 1970s, the emerging advances in technologies of the US environment stayed with him. Peter spent the next 30 years as an industrial designer for various companies throughout Asia. By 2000, Ng was responsible for over 100 product designs, earning him a well deserved reputation as a premier designer. In 2002, with the help of his sons Kenneth and Edmund, Koncept Technologies brand was born. As early as 2003, The Ng Team began working on new lamp ideas. The era of emerging LED technology for interior lighting was just beginning.
The 2014 best in class winner of the Next Generation Luminaires award went to Mosso Pro by Team Ng for Koncept. Mosso Pro is a task lamp with an array of thoughtful conveniences for the user to control many aspects of the light. This flexible task lamp has 2 highly adjustable arms and a multi-directional lamp head, allowing you to point the light at any angle. The barely there profile, brilliantly illuminates your task surface. Dim and change the color temperature of the light from 2700K to 5000K, by touching and holding down the lens. The head of the lamp is also the command station for a number of other convenience features. This light fixture with built in occupancy sensor senses your presence by turning itself off after 15 minutes of inactivity. It automatically resumes previous settings when the user returns. The convenient toggle switch on the shade disables the integrated occupancy sensor. The one-touch dimming feature is activated simply by sliding your finger across the touch strip . Charge your tablet, phone or any USB device with the standard USB base. The optional wireless Qi charging base (sold separately) enables the user to charge their device wirelessly.
For more information go to
Koncept - http://www.lightkulture.com/mosso-pro-led-desk-lamp-wireless-phone-chraging-capable-koncept/
Fall in lighting love with Mosso Pro from Koncept is now available at LightKulture.com.
"I have fallen in lighting love with the Koncept Mosso Pro LED desk lamp. Never have so many functions been built into one task lamp, allowing the user to control so many features with the touch of a finger. All of these features have been built into the Mosso Pro from Koncept. The featherweight design features fluid motion of the adjustable articulating arms, with swivel motion at the base. The LED lamp is both dimmable, and also allows you to tune the color temperature. Paired with a power charging base, Mosso Pro gives new meaning to terms functional desk lamp.The outstanding efficiency of the 48 LED's consumes only 5.5 watts of light, delivering a phenomenal 99 lumens per watt. This can cut your electric consumption in half. In addition to the energy efficiency and lighting performance of this product, Mosso Pro is made of fully recyclable aluminum. We have had many satisfied customers. Clients come back to order another one as a gift, or treat themselves to a second for their office, or use as a pair of bedside reading lamps. I think the most innovative aspect of Mosso Pro is the optional wireless recharging base. I must confess, I don't know how I would stay connected if I did not have this next to my own bed, or on my own desk," noted Inderbinen.
About LightKulture.com
At LightKulture.com, our mission is to offer the finest energy efficient contemporary lighting and light fixtures from around the world. We have assembled an exciting collection of the industries most innovative decorative and architectural lighting.We are proud to offer lighting solutions for both your home and work-life environments. Simplicity is design is complicated, function makes it last. Be inspired by our range of essential designs from well respected American and European manufacturers. In today's world, energy efficient lighting is as important as eco-friendly or green lighting fixtures, such as LED or CFL lighting. We offer the very best energy efficient lighting and light fixtures, both high value LED lighting fixtures and CFL lighting fixtures in modern and contemporary styles that provide quality, innovation and authenticity.
LightKulture
http://www.lightkulture.com/
Email. sales(at)lightkulture(dot)com
Tel. 941-330-0422