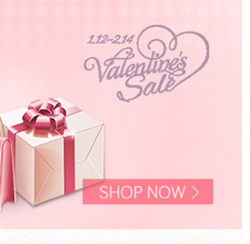 As Valentine's Day comes, it's a good time for people to purchase gifts for the important person in their life..
(PRWEB) January 30, 2015
Fecbek is spreading cheer far and near with its Valentine's sales.The company is preparing many kinds of dresses and accessories.The discount is up to 60% off.The heavy discounts are being offered on lingerie, bags, dresses and other casual wear. Besides, Fecbek has announced its Free Order Activity and Giveaway Activity .
"We got you the perfect Valentine's presents!" the salesman says.
When Valentine's Day rolls around, people like to purchase gifts for their important person. Women like to make a good impression on people with their new clothes. The dress collection offers various styles of beautiful and shiny prom dresses, and the candy-colored bags collection offers the kinds of fashion-forward bags which can arrest a lot of attention. These items are all available at the competitive low prices.
Except for the outerwear, the underwear is also very important. Lingerie is the necessary item for lovers to share a romantic evening together. It is a way of flirting with the most complete display of enchantment and sex appeal.
As for men's wear, Fecbek unveils a jacket collection which includes jackets for both working time and spare time. Besides, males can pay much attention to the bags collection. Most of men's bags on this collection are made of PU and canvas. The team at Fecbek deeply understands that function and quality are so important. So they provide safe, reliable and high-quality products at reasonable prices so that their customers can enjoy the sweet time.
"We have updated all the items for the new collections. The stock of Valentine's promotion is limited, so you can order without delay," the salesman says. To find out more, please visit http://www.fecbek.com/.
About Feckbek.com
Feecbek.com is a leading online retail and wholesale store specializing in selling clothing, shoes, bags, wedding and occasion dresses, cosplay, costumes and beauty products. With a wide selection of products at a low price, the company has been universally recognized for honesty, high efficiency and thoughtful services; it has built a long-term relationship with many customers.