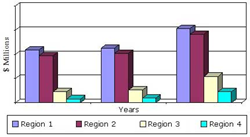 Thee global mid-IR laser market is expected to reach $742.6 million by 2019.
Wellesley, Mass. (PRWEB) January 27, 2015
BCC Research (http://www.bccresearch.com) reveals in its new report on mid-infrared (mid-IR) lasers that the global mid-IR laser market is expected to reach $742.6 million by 2019, growing at a compound annual growth rate (CAGR) of 8.2% during the forecast period (2014–2019). The market is in the expansion phase with many novel technologies in the developmental stage.
This anticipated increase is due to technological innovations made by mid-IR laser companies. Technological innovations, such as the capability to operate at room temperature and the cutback in size and weight, have directly influenced prices, leading to price reductions in the market. These factors have opened doors for a wide range of applications that were not feasible a few years ago.
Currently, the global market for mid-IR lasers is undergoing a significant shift, with increased adoption in varied industries ranging from research and healthcare to defense. The market was previously dominated by electrochemical devices and semiconductor sensors but mid-IR now plays a tremendous role in the market. This has resulted in a major shift not only with respect to prices and supply but also with respect to market dynamics, customer expectations and modus operandi.
"Industries such as defense and chemicals are the key contributors to the growth in the North American market for mid-IR lasers as these segments are anticipated to generate substantial revenue during the forecast period," says BCC Research analyst Pawan Kumar. "The defense industry is and will continue to be the highest revenue-generating segment with $191.4 million by 2019, with a CAGR of 3.7% during 2014 to 2019. The research and chemical segment is expected to exhibit the fastest growth with CAGRs of 12.1% and 9.2%, respectively."
Mid-infrared sensors are used to detect and measure the chemical composition of various materials and gases. The efficiency of mid-IR in detecting elements is unmatched by any other technology and it is comparatively cost-effective as well. Mid-IR is used in various fields such as defense and commercial applications, including communication, the Internet of Things, medicine, healthcare and others.
Mid-Infrared Lasers: Technologies, Applications and Global Markets provides an in-depth analysis of the global mid-IR market by source type, application, end users and region. It also discusses strategies adopted by major players in the global mid-IR laser market. A patent analysis provides technological trends in the global market across years as well as geographies, namely, the U.S., Europe and Japan.
Editors and reporters who wish to speak with the analyst should contact Steven Cumming at steven.cumming(at)bccresearch(dot)com.
About BCC Research
BCC Research publishes market research reports that make organizations worldwide more profitable with intelligence that drives smart business decisions. These reports cover today's major industrial and technology sectors, including emerging markets. For more than 40 years we've helped customers identify new market opportunities with accurate and reliable data and insight, including market sizing, forecasting, industry overviews, and identification of significant trends and key market participants. We partner with analysts who are experts in specific areas of industry and technology, providing unbiased measurements and assessments of global markets. Recently selected as the world's greatest market research company, BCC Research is a unit of Eli Global, LLC. Visit our website at http://www.bccresearch.com. Contact us: (+1) 781-489-7301 (U.S. Eastern Time), or email information(at)bccresearch(dot)com.