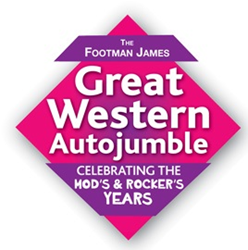 "30+ years on and Footman James is supporting and attending more enthusiasts' vehicle events then ever." - David Bond, Footman James
West Midlands (PRWEB UK) 28 January 2015
Specialist insurance broker Footman James is the headline sponsor at next month's show, which will take place at The Royal Bath and West Showground. Attractions include all manner of bargains to be had from a range of traders and autojumble sellers; a series of excellent lots will also be available from the regular Charterhouse Auction sale.
The theme for the event is to celebrate mods and rockers; in the main hall, exhibitors will be invited to showcase cars from the 1950s, 1960s and early 70s.
David Bond, Footman James' Director said : "The 2015 Great Western Autojumble is an important occasion for us; this show gives us the opportunity to meet up with many existing customers as well as other enthusiasts and also marks the beginning of our annual attendance at a huge variety of events and shows throughout the UK."
This year, Footman James will be attending more than 40 exhibitions and shows this year, including:

The NEC Restoration Show, 28 – 29 March;
The International Classic Motorcycle Show, 25 – 26 April;
The National Kit Car Show at Stoneleigh, 3 – 4 May;
Wilton Classic Supercar, 6-7 June;
The Footman James Bristol Classic Car Show, 13-14 June;
The VMCC Banbury Run, 21 June;
The Footman James Manchester Classic Car Show, September 19 – 20 September
Mini Fest, 6 September;
Beaulieu Autojumble, 5-6 September;
The Footman James Sywell Classic Pistons and Props, 26-27 September;
The Footman James Classic Vehicle Restoration Show, 31 October – 1 November;
NEC Classic Motor Show, 13-15 November.
One of the leading classic vehicle insurance brokers and a well-known name on the specialist vehicle show circuit, Footman James invests in a wide range of events every year.
David Bond, Director of Footman James, underlined the company's ongoing commitment to the show circuit and paints a positive picture for the classics industry in 2015.
He said: "30+ years on and Footman James is supporting and attending more enthusiasts' vehicle events than ever and this promises to be an exciting year."