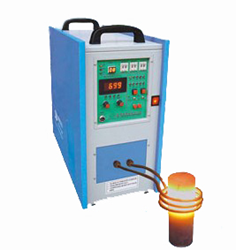 (PRWEB) January 30, 2015
Recently, DW-InductionHeating.com, a leading company in the field of induction heating, has announced big discounts on all of its induction brazing machines. The discounts are offered to expand the business' global market share.
According to the senior sales manager of the business, induction brazing is used for a wide range of products including hydraulic tubes, machine tools, dental drills, masonry drills and more. The frequencies used for induction brazing are generally from 50kHz to 200kHz; in general terms, the lower the frequency, the deeper the current flow.
The induction brazing machines manufactured by DW-InductionHeating.com are of top quality, and they are available at low prices. All the global clients can enjoy shopping from now to Feb. 28, 2015.
"The current promotion is launched to attract more new clients worldwide, so that we can have a bigger market share. We reassure all new and old clients that low rates do not always mean poor quality," the CEO of the company said. "Our automatic induction brazing machines allow for high volume production of all your brazing needs. Each machine is custom engineered and built to fit your exact needs."
DW-InductionHeating.com puts much emphasis on customer service, application acceptance and design. The company's senior spokesman has confidence in the innovative items; he thinks they will sell out soon.
About DW-InductionHeating.com
DW-InductionHeating.com is a well-known supplier of magnetic induction heaters. All its products are made with durable materials. The company aims to create practical induction heating equipments to help people enhance the quality of life.
For more information about the company's latest products, customers can just visit: http://www.dw-InductionHeating.com