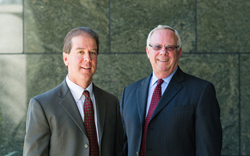 We come to the office every day determined to achieve justice for these clients.
Torrance, CA (PRWEB) January 29, 2015
"For over 30 years now Booth & Koskoff has striven to provide the absolute best representation to people whose lives have been devastated by serious injuries or the death of loved ones," said partner Roger Booth. "2014 was filled with not only some big victories for us, but also lots of day-to-day challenges and inspiring interactions with our clients that make our practice so fulfilling."
"It is exceedingly good fortune and enormously satisfying to be able to practice top-tier law in order to benefit others in need. 2014 was no exception, with outstanding, life changing results for a number of clients who suffered catastrophic injuries." said Richard Koskoff, a firm partner.
Attorneys at Booth & Koskoff won several big cases in 2014, including a $3 million settlement for Fernando Sanchez, who was impaled on a pole gate while driving a forklift. His catastrophic injuries resulted in a year-long hospital stay, and will eventually require a kidney transplant. (No. S-1500-CV-277330-LHB, Kern Cty. Superior Ct. Cal.)
"Fernando went through an unbelievable ordeal, comparable to the film Unbroken. I really admire the strength and resolve of Fernando and his family," said Booth. "I'm very pleased that we were able to provide him with the financial resources to live comfortably and take care of all of his medical needs."
Booth & Koskoff also added attorney Carly Edson to the team. Edson worked as a law clerk at Booth & Koskoff from 2010 to 2012, and recently graduated from Southwestern Law School. She received the highest grade in six of her courses and graduated in the top 10% of her class.
"After many years of watching the Booth & Koskoff attorneys achieve such great results for our clients, I'm thrilled to finally join this team as a litigator and contribute to the positive impact the firm has on our clients' lives," said Edson. "I'm excited to continue to develop the skills necessary to be an excellent trial lawyer alongside such knowledgeable, experienced, and accomplished attorneys."
A multitude of projects were launched in 2014, including a brand new logo and website. In addition, Booth & Koskoff added four new office locations in Palm Desert, Bakersfield, Riverside, and Napa Valley. The locations will help serve existing clients, as well as offer new services to those in need of catastrophic injury or wrongful death legal representation.
The upcoming year looks to be even better for the firm and its clients. "We have a very interesting and challenging group of cases for 2015, including clients who were victims of childhood sexual abuse, who suffered devastating injuries on worksites and whose loved ones were killed by the negligence of those who were supposed to protect them," said Booth. "We come to the office every day determined to achieve justice for these clients, help alleviate their suffering and secure a better future for them and their families."
About Booth & Koskoff:
Booth & Koskoff is a Torrance, California based law firm that specializes in catastrophic personal injury and wrongful death cases. Since 1984, Booth & Koskoff has provided quality legal representation and advocacy for its clients throughout California. For more information, please call us at (888) 212-0440 or visit our website at http://www.boothkoskoff.com.