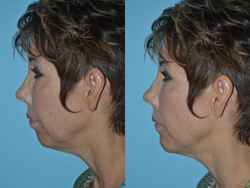 Atlanta, GA (PRWEB) February 03, 2015
Thanks to Dr. Maloney's new non-surgical chin implant, patients can balance their profile by augmenting a weak chin without the lengthy recovery time and the pain and risks associated with surgical chin implants.
Chin position carries with it significant attributes. A chin slightly short in length or a receding jaw can age a person, or make him or her appear weak and frail. A strong chin, associated with beautiful aesthetic standards, can make a strong and vibrant impression. By using Voluma® injections, Dr. Maloney can produce a positive result for those who want to enhance their chin area, without the permanence of surgery.
A national trainer for Allergan, the company that manufactures Botox Cosmetic®, Juvederm® and Latisse,® Dr. Maloney was one of the first physicians to be certified to use Juvederm Voluma®, the company's newest hyaluronic acid filler. He was instrumental in developing the Voluma® injection protocol and travels extensively instructing other cosmetic doctors on injection techniques. Voluma® is FDA-approved to provide volume to the mid face and has proprietary properties that make it able to lift tissues more effectively while lasting up to two years.
The non-surgical chin implant has become a very popular, in demand procedure for its non-permanent approach, which enables a patient to try out a stronger chin before deciding if he or she desires a more permanent, surgical outcome. It also is an attractive procedure for those who don't have the time or money available for chin implant surgery. Another advantage of the non-surgical chin implant is that the client has a total control of how much correction she/he wants by observing the procedure with a hand held mirror and giving his or her feedback to Dr. Maloney.
Dr. Maloney performs non-surgical chin implants with Voluma® injections in just one to two office visits. Generally, there is no bruising, and the patient can resume normal activities immediately.
According to Dr. Maloney, good candidates for this procedure include those who have mild to moderate loose skin in the chin or jowl areas, and those who are not good surgical candidates. Dr. Maloney uses his expertise and computer imaging during consultation to determine if this new, minimally invasive combination is the correct "fit" for his patients' goals. For more information, or to book a consultation, please call The Maloney Center for Facial Plastic Surgery at 770.804.0007.
ABOUT THE MALONEY CENTER FOR FACIAL PLASTIC SURGERY
Headquartered in Atlanta, Georgia, The Maloney Center for Facial Plastic Surgery is an internationally renowned destination for excellence in facial plastic surgery and custom, individualized care. Dr. Maloney is an award-winning, double board-certified facial plastic and reconstructive surgeon. He is a National Trainer for Allergan, makers of Botox Cosmetic®, Juvederm®, Latisse® and NEW, FDA-approved Juvederm Voluma XC®. He is a fellow of the American College of Surgeons and a Diplomat of the National Board of Medical Examiners. Dr. Maloney's artistry and specialized approach have resulted in regular features on MSNBC.com, ABC News, Discovery Health, TLC, and CNN Headline News.
Call 770.804.0007 or visit us online at MaloneyCenter.com.