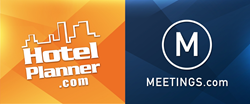 West Palm Beach, FL (PRWEB) January 27, 2015
With group bookings offered in over 50,000 hotels worldwide and generating hundreds of millions in room night revenues, HotelPlanner.com and its sister brand Meetings.com have become the standout provider of online group guest services. The company's mission is to provide clients the best possible value when shopping for group hotel rooms and meeting space. The global group market is rapidly changing and the company continues to focus their efforts on staying well ahead of this evolving market by utilizing proprietary technology combined with a team of experienced industry travel experts to deliver an outstanding and helpful buying experience for clients.
2014's highlights include:
Company Growth and Corporate Strategy:

New worldwide records set in 2014 with revenue increase in both online group hotel reservations and meeting space bookings.
Named one of Inc. Magazine's fastest-growing private companies of the year.
Opened a new Hong Kong Headquarters in early November to service the rising demand of group travel business within Asia.
Featured in InvestHK's 2015 January Newsletter.
Established new offices in Amsterdam, Netherlands, Barcelona, Spain and Frankfurt, Germany.
Expanded the USA global headquarters operation in West Palm Beach, FL and its European headquarters based in London.
Doubled programming/technical staff in West Palm Beach, FL & Las Vegas, NV.
Introduced a new communications team and social media department specializing in customer engagement and increasing corporate communication with hotel and affiliate partners.
New Clients and Partnership Renewals:
Continued NFL partnerships with the San Diego Chargers, St. Louis Rams and Washington Redskins.
Established partnerships in Europe with Matchroom Sports, Title Sponsor for the PGA Europro Tour.
State of Mississippi became the company's newest government client.
Bradley Athletics announced HotelPlanner as a corporate partner for the Bradley Braves and their fans.
The National Alliance for Youth Sports (NAYS) now offers HotelPlanner.com services to its members for their team travel needs.
Renewed exclusive partnership with PONY Softball & Baseball.
Capabilities and Industry Expansion:
Meetings.com launched a new app in the Salesforce AppExchange to source hotels for meetings and redesigned the site with a tablet and mobile makeover.
TRIPinfo.com and HotelPlanner joined forces with a full technology integration in global group booking software.
Co-founded the American Group Travel Awards (AGTA) and the European Group Travel Awards (EGTA) to recognize the best industry leaders in group travel.
Year over year, the company has seen a tremendous growth in the global group hotel sales marketplace.
About HotelPlanner & Meetings.com
HotelPlanner.com provides online services to the global group hotel market. The company's service ensures the lowest rates by allowing customers to receive quotes online directly from hotel group sales managers. HotelPlanner allows customers to book hotels for business meetings, conferences, conventions, family reunions, weddings, extended stays, tours, military reunions, church events, and group travels. The company also provides mobile applications for booking group hotel reservations. The company owns and operates Meetings.com, a site that provides information and booking services for meeting and banquet venues around the world for corporate and association meeting planners. Founded in 2002, the company has offices in in West Palm Beach, FL (USA Headquarters), Las Vegas, Nevada, London, England, (European Headquarters) and Hong Kong (Asia Headquarters).
For more information, please contact Bruce Rosenberg at (818) 661-0244 or at Bruce.Rosenberg(at)hotelplanner(dot)com.