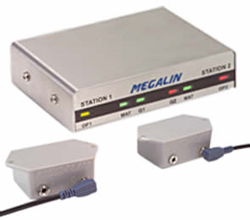 "Megalin has developed a market leading system based on the reliable Resistance method of monitoring both personnel and EPA resistance to ground (Rg). One monitor will cover two operators, two benches plus two soldering irons or similar equipment".
London, UK (PRWEB UK) 28 January 2015
Teknis is pleased to announce their new range of Megalin Constant Monitoring equipment, ensuring complete real-time ESD grounding for personnel, EPA surfaces and tools (e.g. soldering irons) providing enhanced protection for Electro Static Sensitive Devices (ESDS) commonly found within electronics manufacturing and associated repair companies.
Megalin have designed a unique market leading range of constant monitors which, when used together with Teknis compatible dual cord wrist strap assemblies, provide instant real time warnings of damaging ESD grounding failures and events.
In many cases, personnel only test their wrist strap assemblies upon entering the Electrostatic Protected Area (EPA) at the beginning of the working day. With the increasing sensitivity of ESDS, Constant Monitoring ensures any breach of ESD grounding is immediately recognised and both operators and management alerted audibly and electronically via a standard network.
Constant Monitoring has been available for around 25 years, but the earlier capacitance based products have always been relatively unreliable.
Compared to the standard daily wrist strap testers, and infrequent resistance to ground testing of ESD benches and work surfaces, constant monitors offer the benefits of real-time monitoring, whilst reducing the cost of many hours spent auditing.
The Megalin range begins with the CM1600GZ entry-level Constant Monitor which controls 2 EPA's, 2 operators (with Wrist Straps) and alerts via Audio and LED alarms. The more sophisticated CMGZ1800 can be combined with Megalin's CMBOSS1800GZ Software, Infrared Operator Presence wrist cord connections, and the GZ1800H Router, enabling up to 128 monitors to be connected allowing resistances to be monitored and adjusted remotely via a traditional network. Email warnings can be set to announce failures or inconsistencies in grounding as they occur.
The Megalin Constant Monitor is available in the UK exclusively from Teknis, who are happy to offer complete demonstrations of the products available.
For more information on Constant Monitoring and the Megalin Range of products, download the free whitepaper from Teknis in the attachments section.
About Teknis Ltd
Founded in 1964, Teknis Ltd has been supplying the UK electronics manufacturing industry with high-performance electrostatic discharge protection (ESD) products. Teknis combines its own design and manufacturing expertise with other world leading ESD manufacturers, to bring you one of the most comprehensive ranges of products.