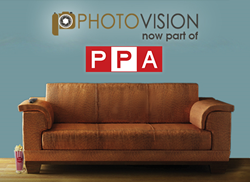 There is such a wealth of information, it's easy to access and this is the type of offering that our members really need.
ATLANTA, Ga. (PRWEB) January 30, 2015
Professional Photographers of America (PPA) announced today the addition of the recently acquired PhotoVision to its roster of membership benefits. PhotoVision's monthly streaming subscription will be available to photographers belonging to PPA at no additional cost as part of their PPA membership.
"This is an important new benefit for PPA members," said David Trust, CEO. "Bringing PhotoVision under the PPA umbrella takes our educational offerings to another level and furthers PPA's mission to raise the bar in our ever-growing industry."
PhotoVision is the popular bi-monthly DVD and streaming photography learning program founded by Ed Pierce, M.Photog.Cr. Now in its seventeenth year, PhotoVision offers photographers professional education and solutions through cinematic-quality HD videos from some of the biggest names photography. As part of the purchase agreement announced last summer, Pierce will continue to produce PhotoVision's educational videos. "Nobody does this better than Ed," said Trust. "He is the gold standard and it is a lot of fun to be working so closely with him on this."
PhotoVision videos feature tips, processes and techniques from real, working, successful professional photographers. The videos serve to expand and strengthen the professional photography industry as a whole, aligning well with PPA's mission to do the same.
While PhotoVision will continue to operate as a separate entity, PPA photographers now have access to PhotoVision's entire library of 800+ videos 24/7 through the PhotoVision monthly streaming option.
"Our members are always seeking to grow as artists and business professionals," said Angela Kurkian, PPA's director of education. "PhotoVision covers so many topics that are vital to a photographer's success. What's even better is that Ed has always sought after those who are practicing what they preach. It's real world knowledge presented by photographers who are truly running profitable businesses.
"I'm so excited we're able to offer this to our members. There is such a wealth of information, it's easy to access and this is the type of offering that our members really need."
The addition broadens PPA's current education offerings, which include PPAedu and PPA Business workshops. PhotoVision monthly streaming is available to PPA members starting February 1. Non-members are still able to subscribe at their current rates. For more information, visit PPA.com/PhotoVisionVideo.
About PPA:
Professional Photographers of America (PPA) is the largest international nonprofit association created by professional photographers, for professional photographers. Almost as long-lived as photography itself, PPA's roots date back to 1869. The nonprofit assists more than 27,000 members through protection, education and resources for their continued success. See how PPA helps photographers be more at PPA.com.