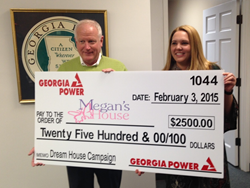 This donation helps us get closer to our goal to build our new Megan's House.
Albany, Georgia (PRWEB) February 04, 2015
Georgia Power Foundation representative, Jay Smith, presented a check of $2,500 to Easter Seals Southern Georgia for the Megan's House "Dream House" Capital Campaign. The capital campaign is being conducted to raise money to build a new Megan's House in Albany. The current home serves one or two children at a time. The new house will be able to provide three to four children with the valuable resource of respite care.
Megan's House is a respite home for children ages 0-17 who have developmental disabilities, autism, or are medically fragile. Megan's House is a critical service to local families of children with special needs and provides a well-deserved break with the peace of mind that their child is being cared for by qualified professionals. Megan's House was established in 2005 and now provides respite services in three locations: Albany, Valdosta, and Waycross.
Easter Seals Southern Georgia creates solutions that change the lives of children, adults and families with disabilities or special needs by offering a variety of programs and services that enable individuals to lead lives of equality, dignity and independence. If you are interested in making a donation, please designate to the "Dream House" campaign at Easter Seals Southern Georgia 1906 Palmyra Rd. Albany, GA 31701. For more information, visit us online at http://www.southerngeorgia.easterseals.com or call (229) 439-7061.
Georgia Power Foundation is the largest subsidiary of Southern Company, the premier energy company serving the Southeast through its subsidiaries. Value, Reliability, Customer Service and Stewardship are the cornerstones of the company's promise to 2.4 million customers in all but four of Georgia's 159 counties. Committed to delivering clean, safe, reliable and affordable energy at rates below the national average, Georgia Power maintains a diverse, innovative generation mix that includes nuclear, advanced coal and natural gas, renewables such as solar, hydroelectric and wind, as well as a variety of energy efficiency programs.